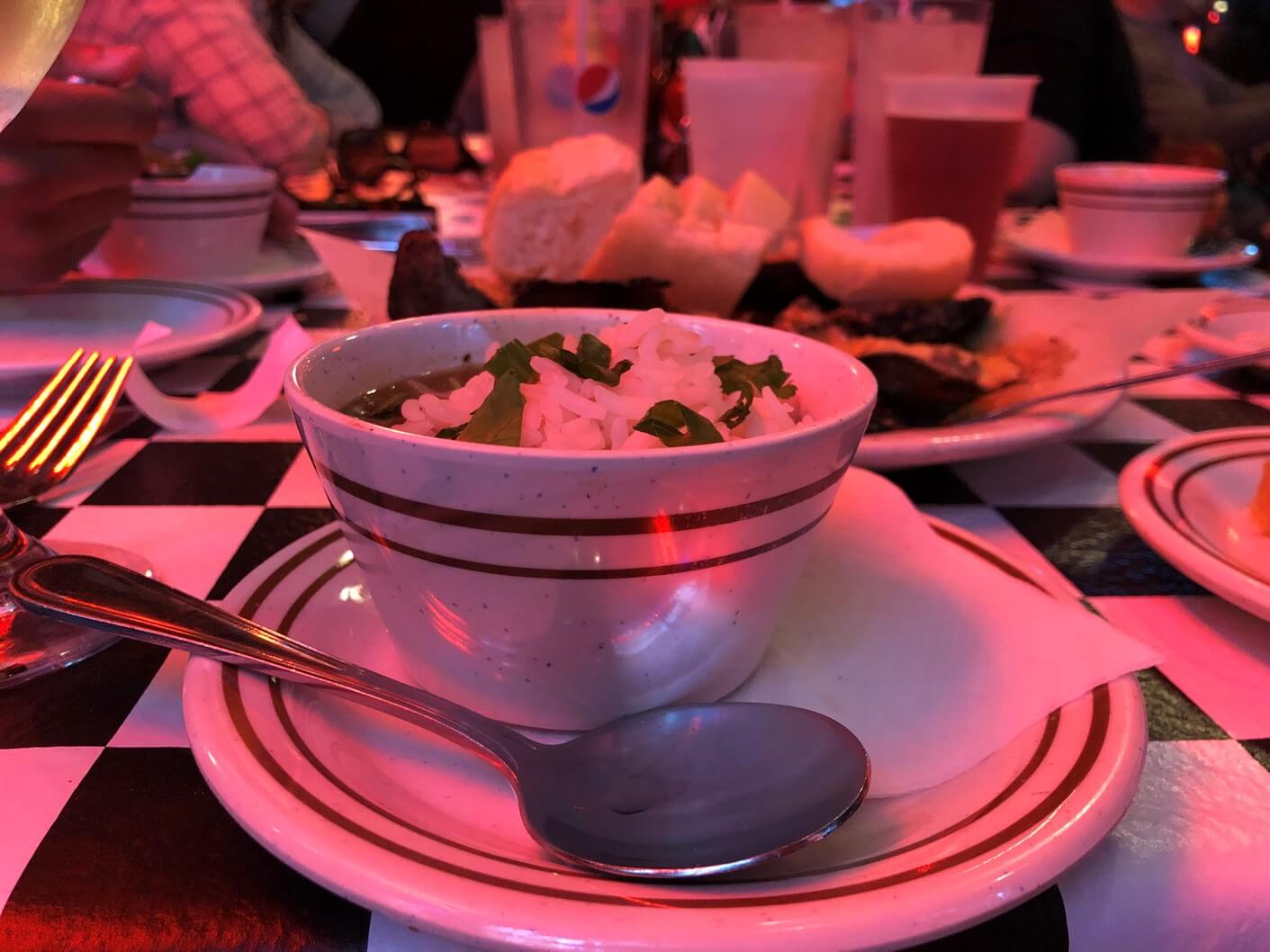 My family loves gumbo. It's crowd-pleasing, easy to make and filling.
A few years ago Rob and I visited New Orleans. Because we both love cooking I thought it would be fun to take a Creole cooking class and learn to make gumbo. At the cooking demonstration, we discovered a recipe that we love and make it often. It's a staple in our home and on our potluck menu too.
A true gumbo starts with a dark flour and oil base called a roux. The darker, the better. The inclusion of meat or shellfish follows the roux, and a mix of vegetables that Creole cooks describe as the "Holy Trinity" of vegetables: celery, bell peppers, and onions.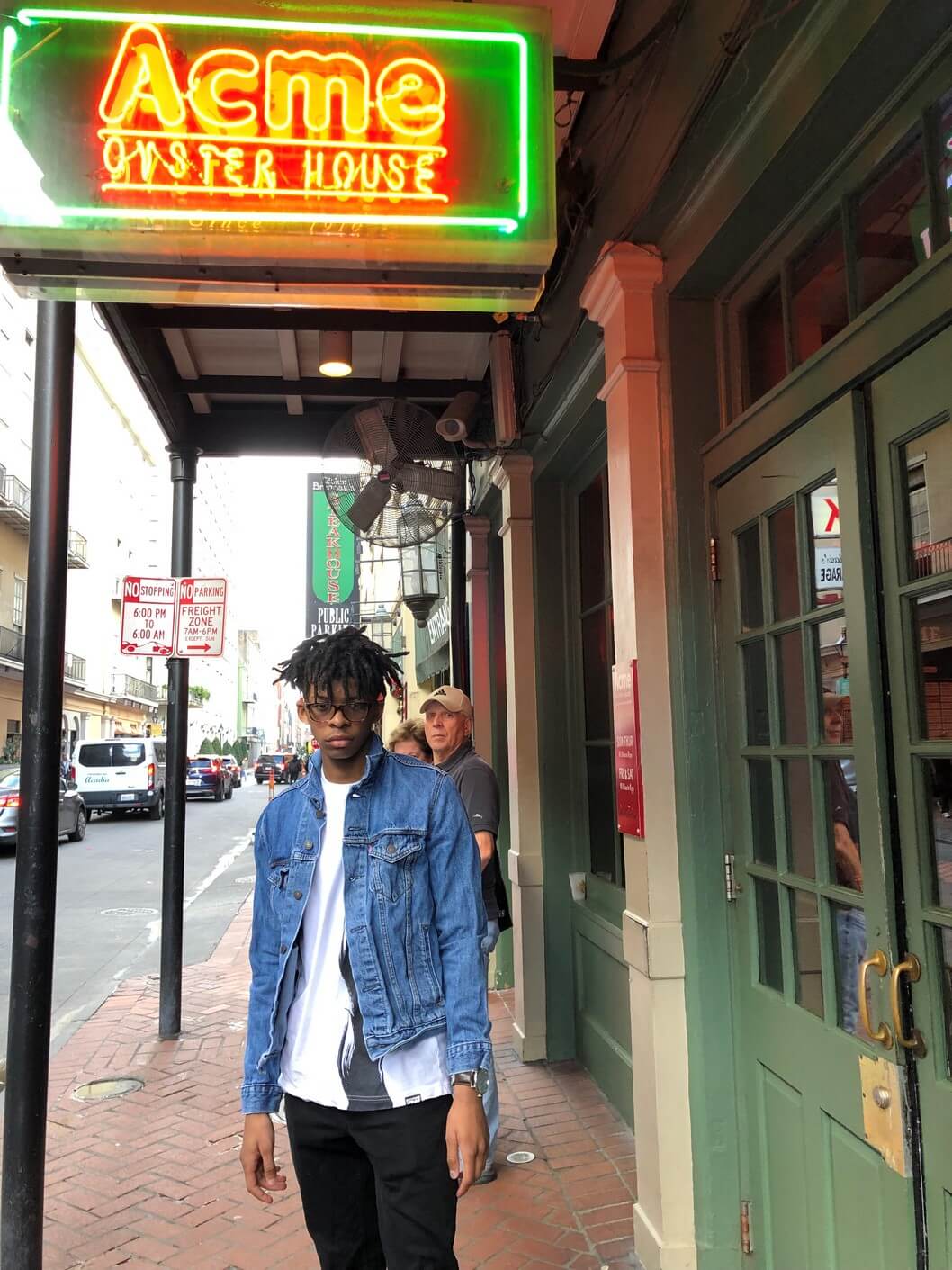 Because gumbo is so popular in our family, I thought it would be fun to take our son on vacation to New Orleans and sample some of the best gumbos in the city. I contacted my NOLA pals and asked them for recommendations. We decided to head to four restaurants for a progressive gumbo lunch and end our day with a dinner at Commander's Palace.
Following were our favorites–all great options endorsed by my friends and me from New Orleans!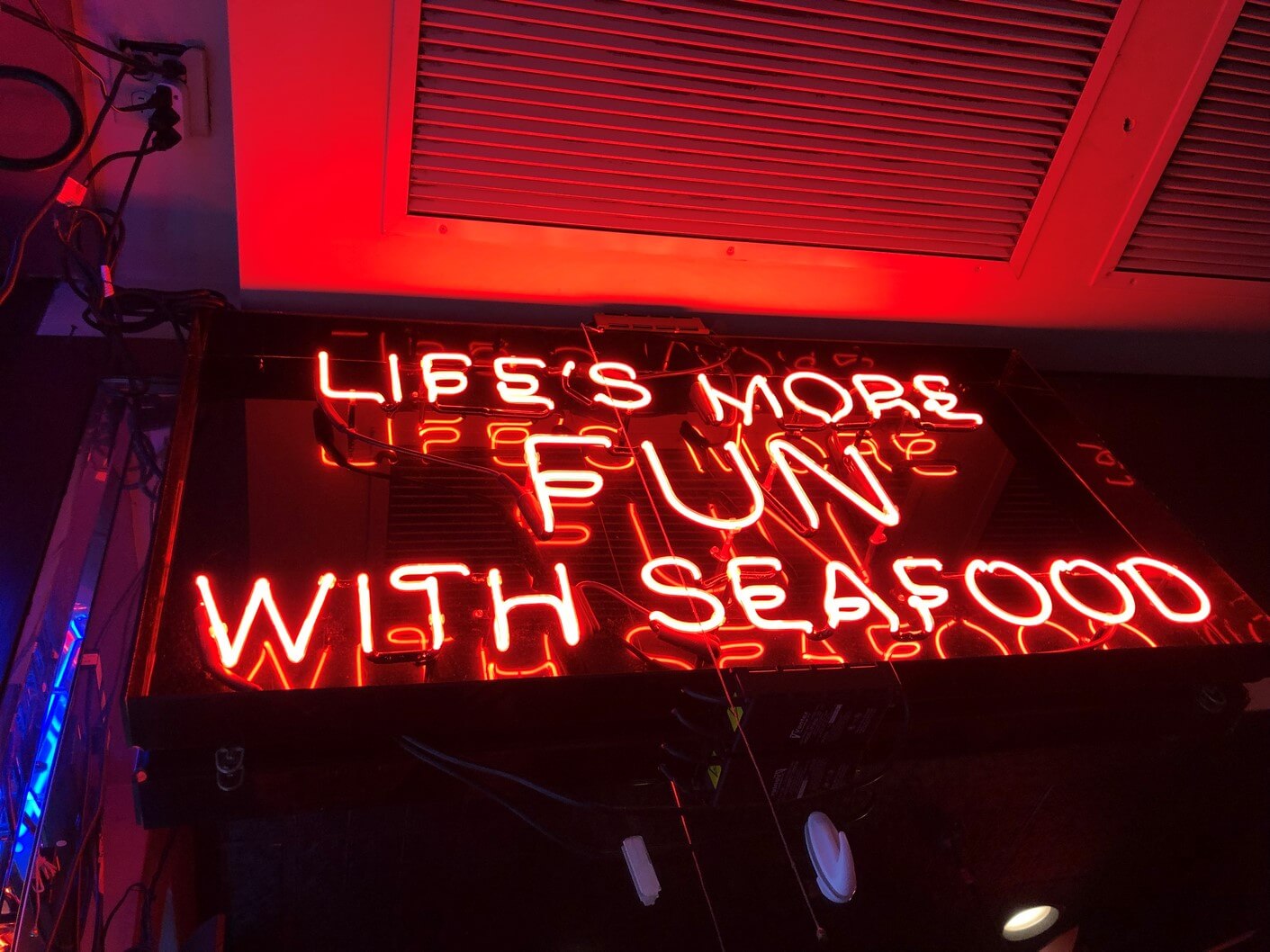 Acme Oyster House
Acme Oyster House is a New Orleans based chain specializing in Creole classics: chargrilled oysters, po' boys, gumbo and crawfish. It's Rob's favorite place for oysters and was the first place we went after dropping our luggage at the hotel.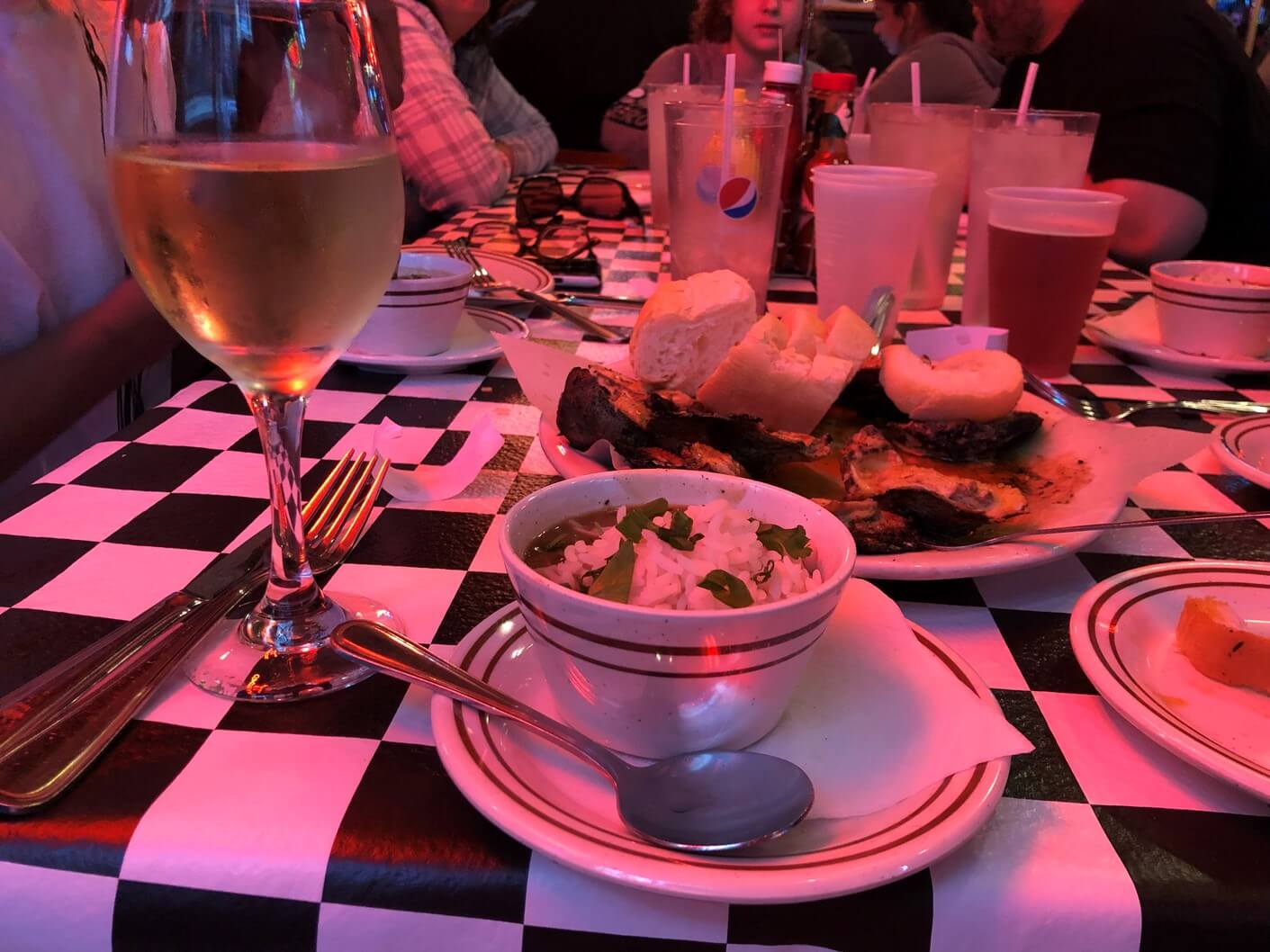 There are many Acme locations to choose from in New Orleans. We opted for the restaurant in the French Quarter.
Although there was a bit of a wait, Rob headed inside the restaurant and went to the bar. He returned with drinks in plastic cups. We sipped beer, soda, and Chardonnay while we waited for our table as a few "Second Line" parades passed by following recently married couples down the lively streets of the French Quarter.
We were seated pretty quickly (time passes faster with a Chardonnay in hand) and ordered chargrilled oysters and gumbo. The gumbo at Acme was Rob's favorite. Topped with rice and a well made, perfectly brown traditional roux it looked and tasted like a traditional gumbo should.
The oysters at Acme (which were simply a must even though we were there for the gumbo) were freshly shucked, large, and cooked in a mix of garlic and butter. The platter came with garlic bread which was delightful and worth its own mention.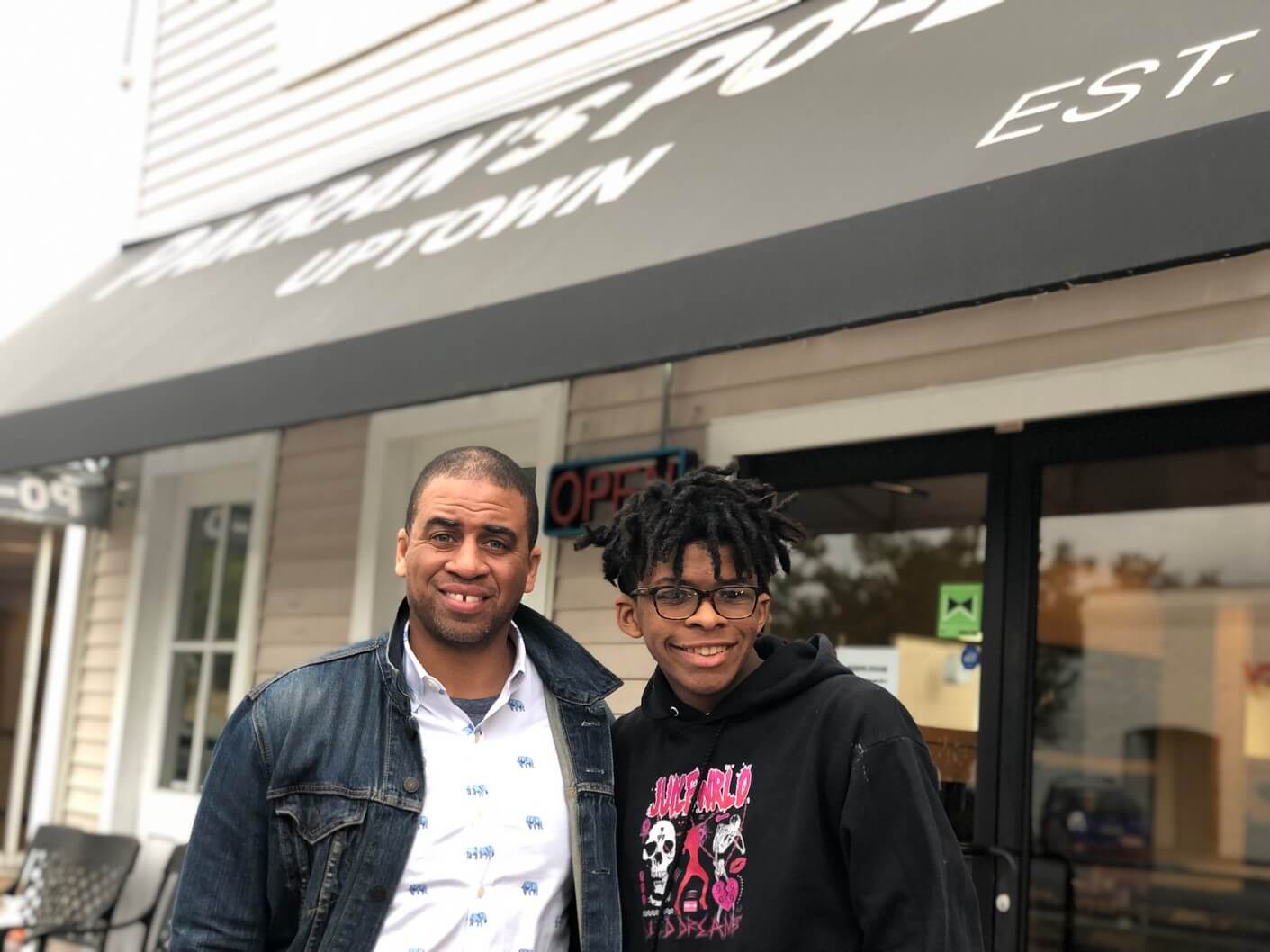 Parran's Po-Boys
We visited Parran's Po Boys on Prytania Street to sample its gumbo. My local friends sent me to Parran's for the chicken and andouille sausage gumbo. While they recommended the gumbo, they warned me that, "there's not a lot of atmosphere there."
Although the Prytania location we visited is less than a year old, the 40-year old restaurant has two other locations and a long history of serving po' boys and gumbo to locals and visitors.
Parran's on Prytania has counter-service so its an easy place to eat with kids or stop by when you're in a rush.
There's a reasonable about of seating making it easy to walk in, place your order and wait for someone will deliver your food to your table fairly quickly.
It's a very straightforward affair.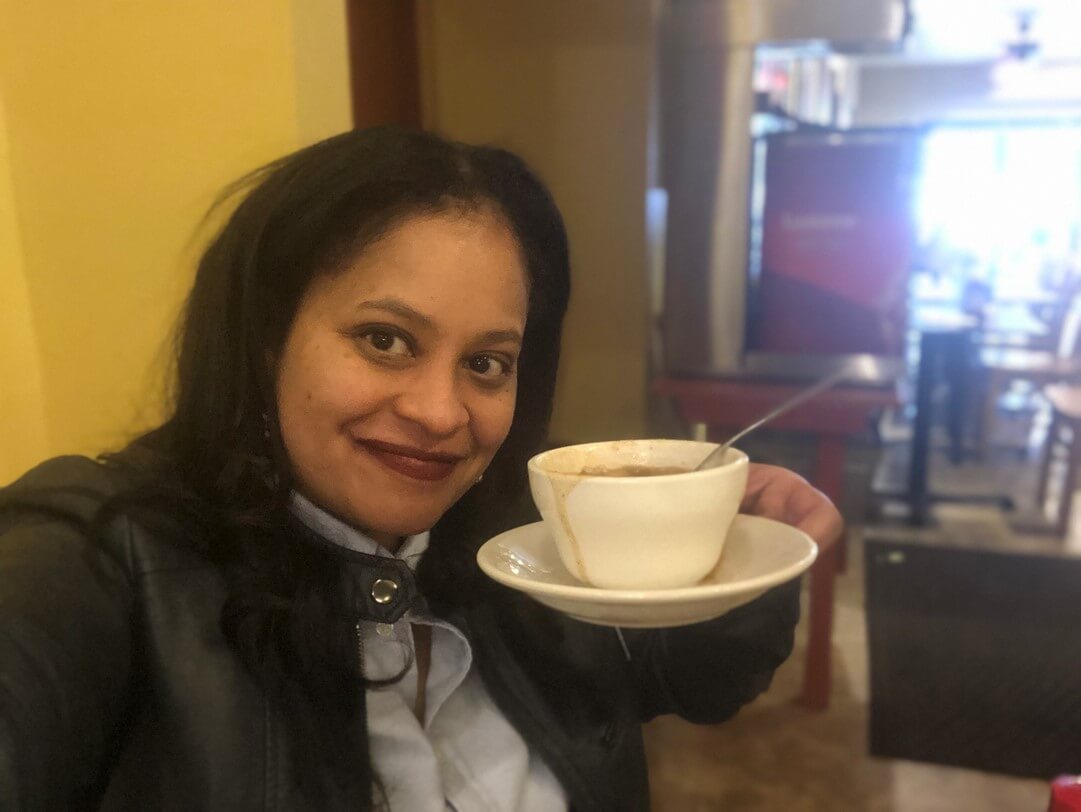 Because the po'boys at Parran's are some of the best in the city, Rob ordered a catfish po'boy and a gumbo. He talked about the catfish po'boy and barely mentioned his gumbo. Based on his endorsement, I would recommend a po'boy from Parran's and gumbo if you have time.
I liked the gumbo at Parran's. I felt it was less traditional and had a savory chicken base. As the NOLA friends said, it was worth the trip.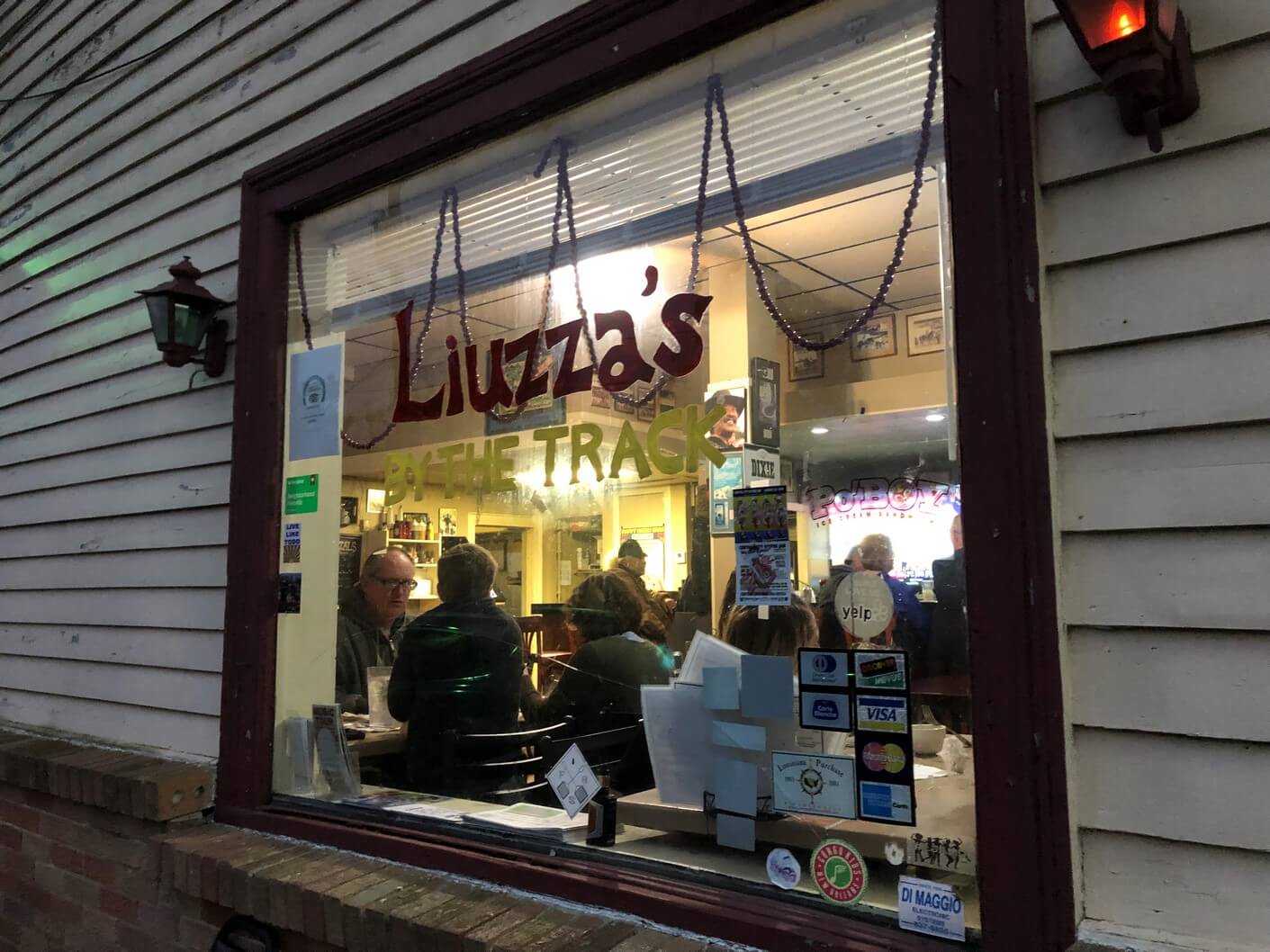 Liuzza's By The Track
The gumbo at Liuzza's was my personal favorite. It had a lighter, thinner roux than the other gumbos and was not served with rice. However, it has a very savory taste that was well seasoned with more than 13 different spices, according to our waitress.
Liuzza's gumbo had thick chunks of sausage, chicken, and shrimp. The sausage that is made locally using the restaurant's recipe and its seafood is also locally sourced and fresh. These details came through in the recipe.
The gumbo features so much seasoning, that the menu advises, "please try it before you season it"–good advice because it arrives at your table perfect and ready to eat–no additional seasoning is necessary.
Because everything is made in house, I also ordered the sweet potato fries. They are hand-cut in house and are delicious.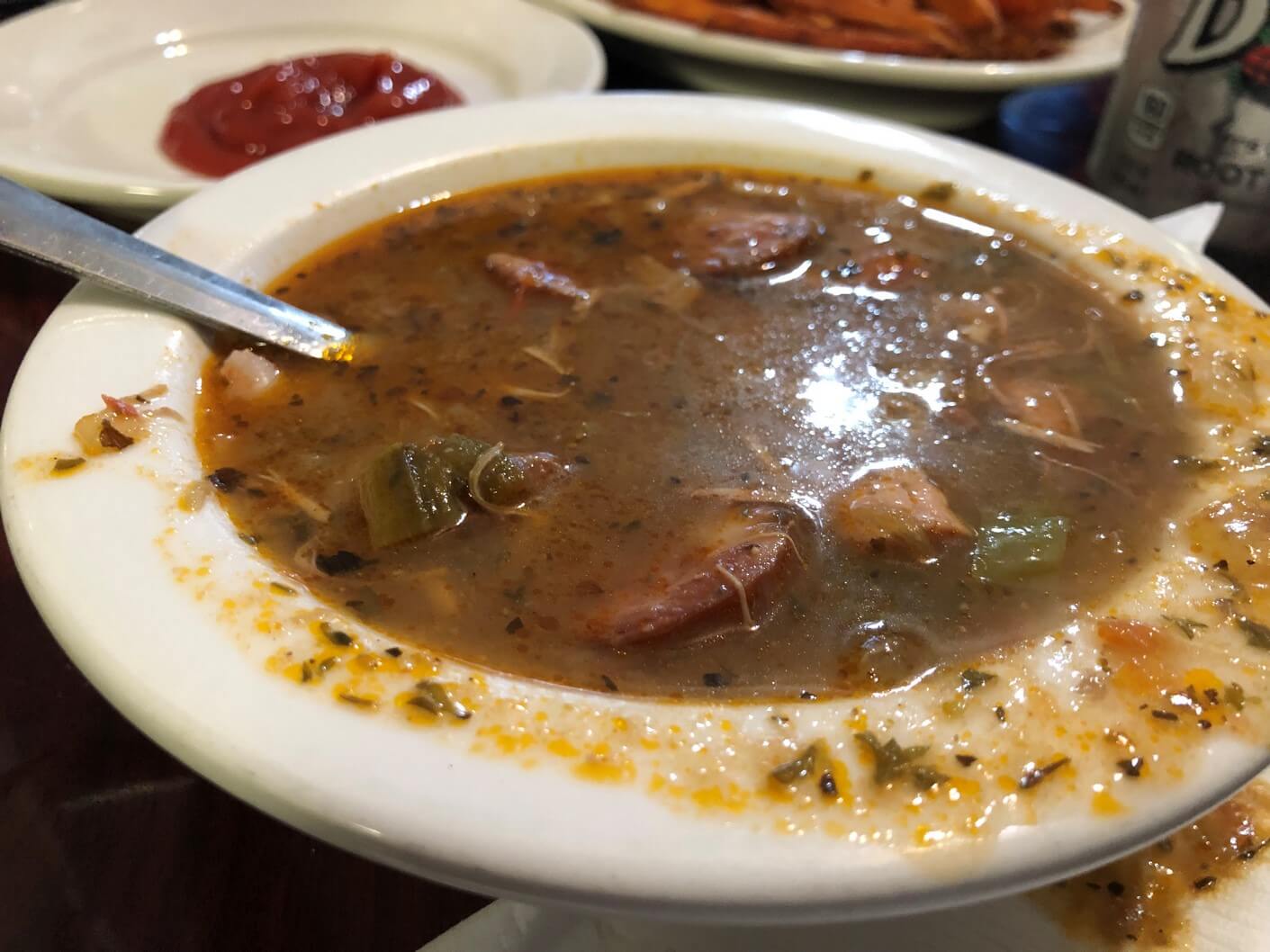 Liuzza's is a no-frills affair. The menus at are laminated plastic guides that underscore just how affordable a good meal at this restaurant is.
Liuzza's is a smaller restaurant with a long bar. An authentic neighborhood joint, during our visit it seemed we were the only customers who hadn't arrived on foot.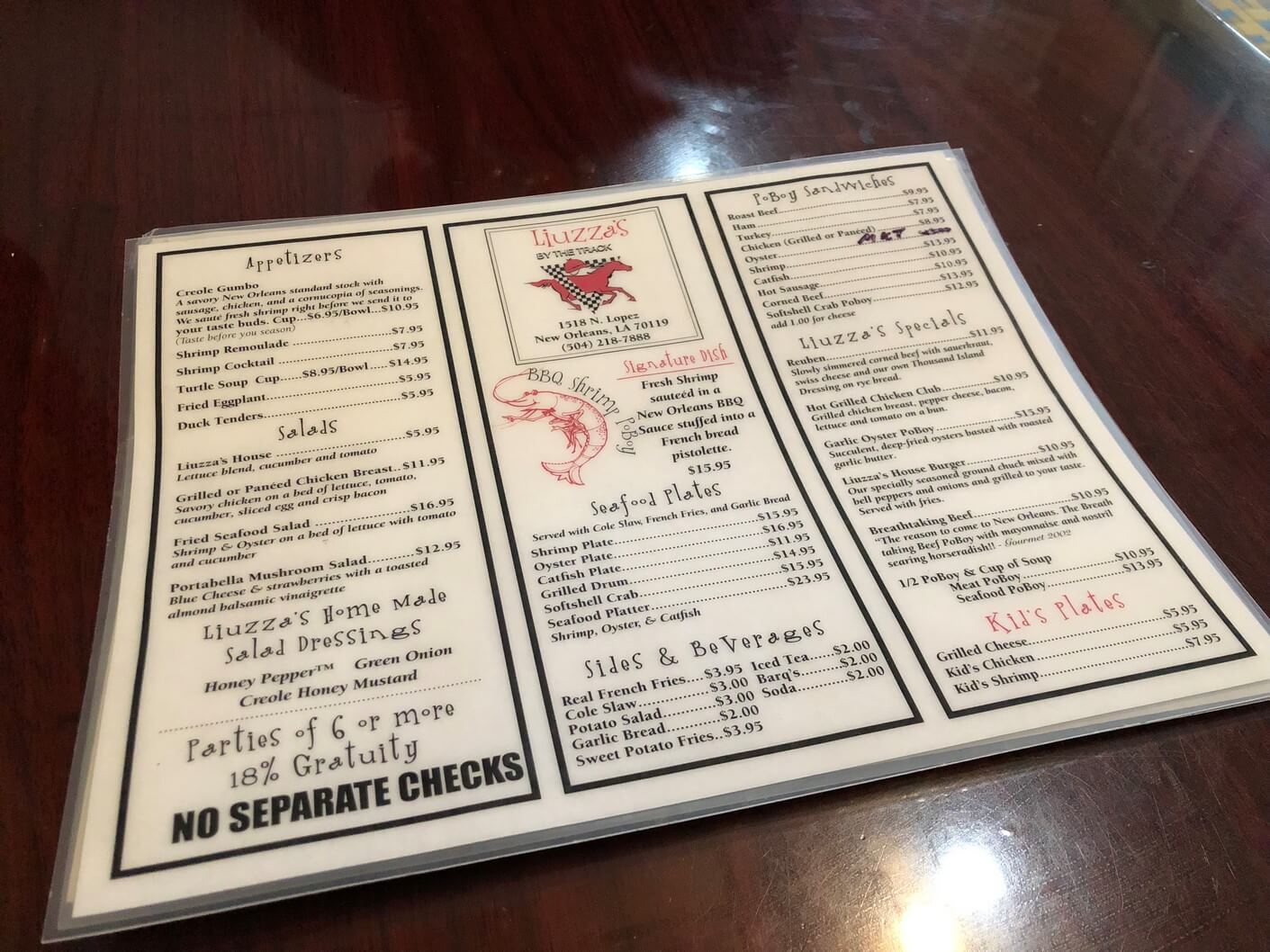 During Jazz Fest, it's a popular place because it's easy to walk to. And year-round, its proximity to the New Orleans Fairgrounds also makes it popular with visitors to the racetrack.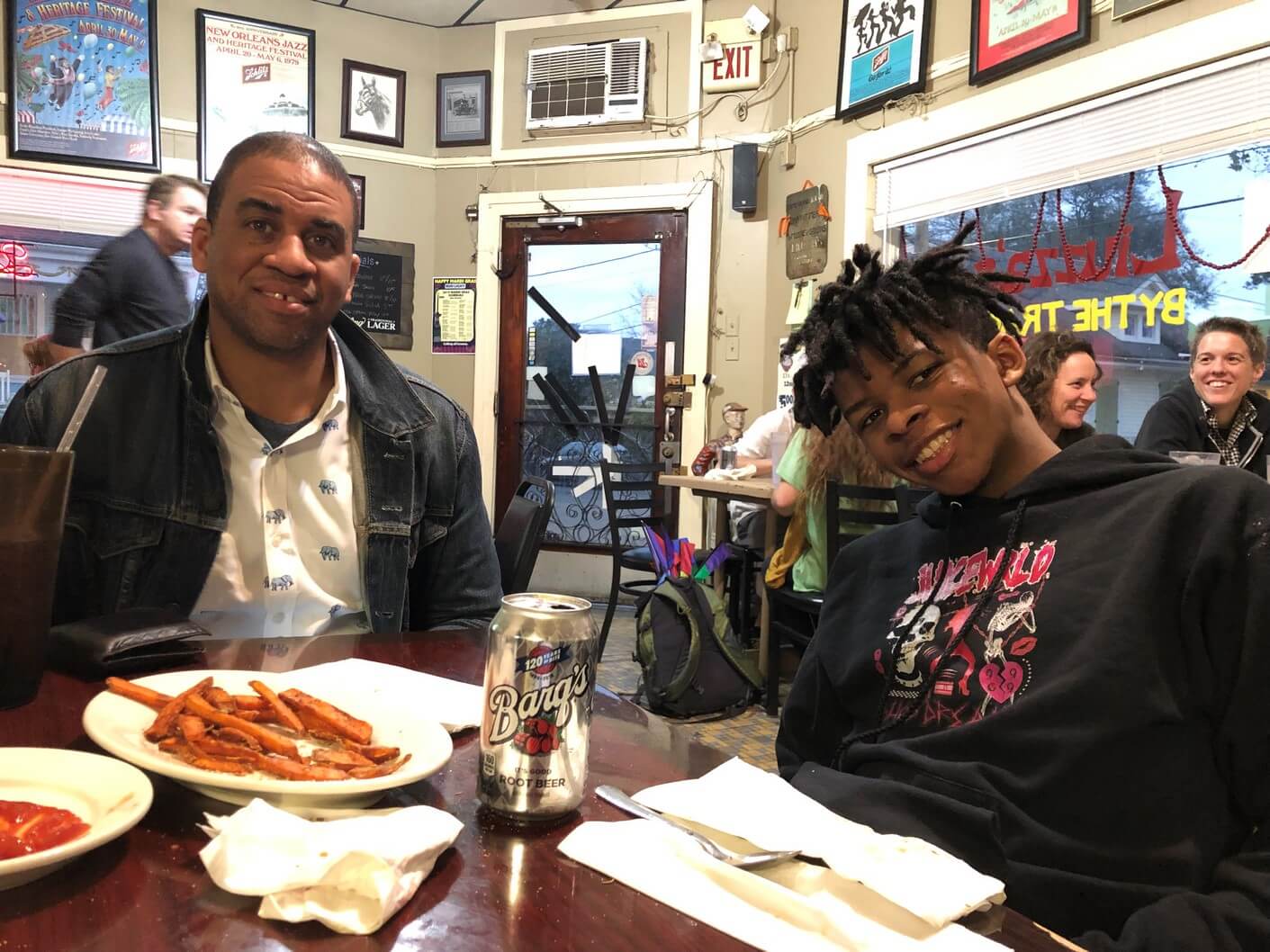 Commander's Palace
We ended our gumbo-sampling adventure at Commander's Palace. Both Rob and Bobby liked the gumbo at Commander's Palace; however, the gumbo at a Commander's had stiff competition. While it was good, everyone agreed that it paled in comparison to another Creole classic on Commander's menu: the Turtle Soup.
The gumbo at Commander's was good–the restaurant is classic New Orleans–but the gumbo didn't stand out against the Turtle Soup, which was sublime.
Compared to the other local gumbos, this was competitive, but if you only have the opportunity to eat at Commander's Palace you should order the Turtle Soup or the Soup 1-1-1 which allows you to sample the gumbo, turtle soup, and third (probably amazing) soup.
If you're adventurous, you can always try to replicate the gumbo at Commander's Palace in your own kitchen. I discovered the recipe for the seafood gumbo at Commander's Palace here. It's relatively easy to make, and its ingredients are straightforward.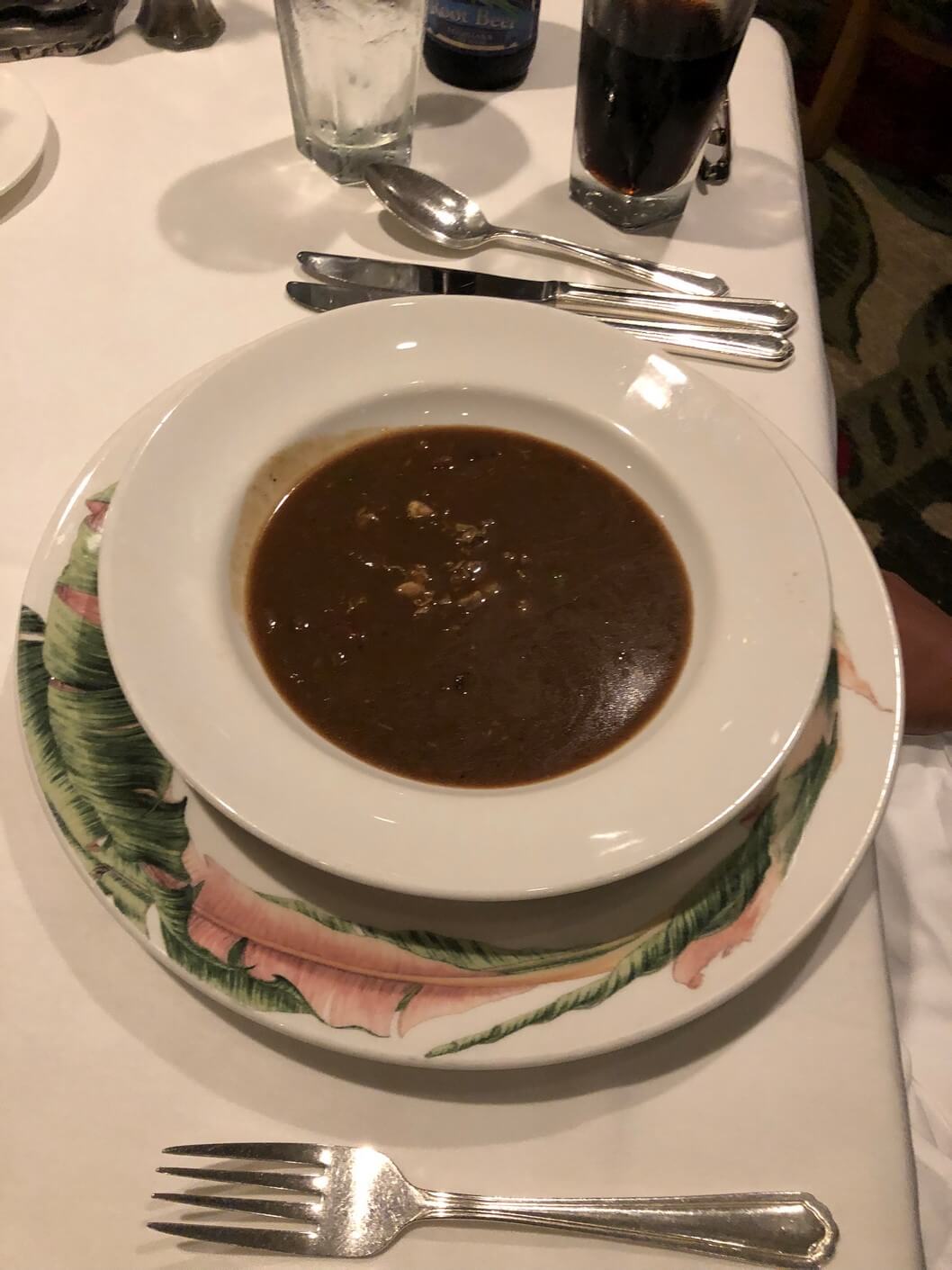 As the official cuisine of the state of Louisiana, sampling and discovering gumbo in and around New Orleans is an adventure worth undertaking.
Like Louisiana itself, the stew is a mash-up of the different cultures, cooking styles and cuisines–it's the essence of America and the wonderful melting pot of cultures and cooking methods that make America such a wonderful place to live (and eat!).
Since returning from our gumbo tasting trip, we've revisited our family recipe tweaking it–adding a few things inspired by the restaurants above to enhance the recipe we love. The result is a flavorful mash-up made with love–just like the foods featured at the restaurants above.