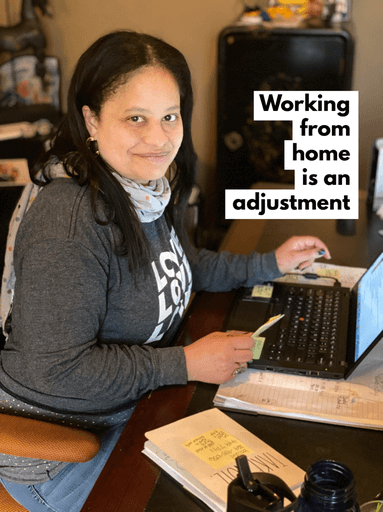 I'm no stranger to vulnerability.
I worked in New York City during 9/11 and spent the weeks following the attacks on America tired, pregnant, and sequestered as Ground Zero smoked and smoldered.
But this crisis is different and much more challenging.
I've been dreading 2021 forever. It's Bobby's senior year and its second semester has loomed large in my mind and placed stress on my heart. A praying mom and a worrier when it comes to him, I believed I had prepared myself for the worst: the last track meets, would the kids make it to State again–God I had hoped so–debates over prom outfits, and of course, Senioritis, which I hoped wouldn't stop Bobby from studying for his AP exams.
What's unfolded now is so very different.
The ache of Senior Year and the sadness surrounding its last fleeting moments seem so silly now. State track meets and AP Exams are the least of our concerns. And while deprioritized for sure, I understandably spent some time grieving a little this week, thinking about the graduation we probably won't celebrate, and other milestones we will miss.
As a new reality began to set in, our family has started to settle into a new normal. Together we're navigating uncertainty and the unknown and are working together to make adjustments. So much has happened so quickly that we've found ourselves setting a slow and deliberate pace, and using our calendars to schedule deliberate check-ins with family and friends on FaceTime.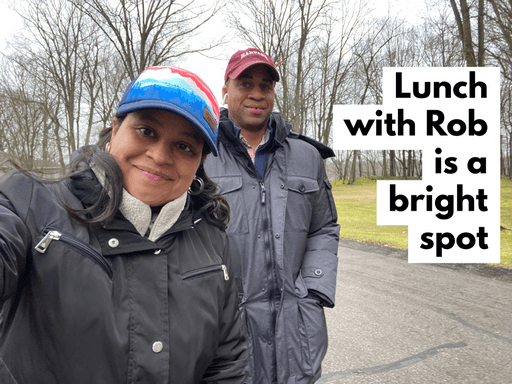 Midweek, my iPhone began to die. After deliberation, we decided that I would go to the AT&T Store and upgrade my phone. With stores closing and no end in sight, I decided to take a deliberate risk ensuring that I had a phone that was reliable for an inevitable Shelter In Place scenario. All of these things are happening while we're spending more time together than planned. And even as we do so, we're canceling our last family ski trip, that final Spring Break trip, and wondering out loud when we might resume the boring business of being a family again: going to the dentist together and visiting the eye doctor to select new frames following an eye exam.
The little things are the big things, for sure.
The gravity of all that may or may not happen is stressful, so I'm busying myself by slowly establishing a new routine and giving myself time and grace to do so. I'm wearing work clothes and a bra during the day–every day. I want to have normal things in an abnormal situation, and work clothes feel like an easy part of my routine that brings normalcy and familiarity to my world.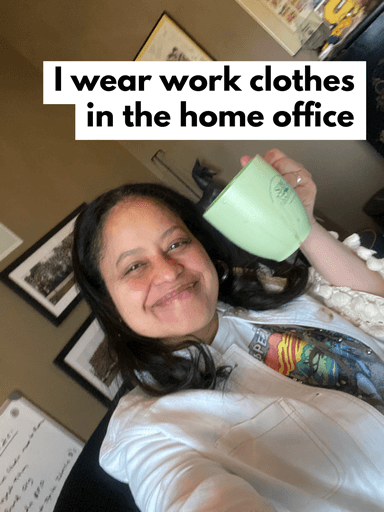 Creating normalcy and establishing a routine is also helping me come to terms with all that is happening around me. In all of the uncertainty, it's not lost on me that we are all in this situation together.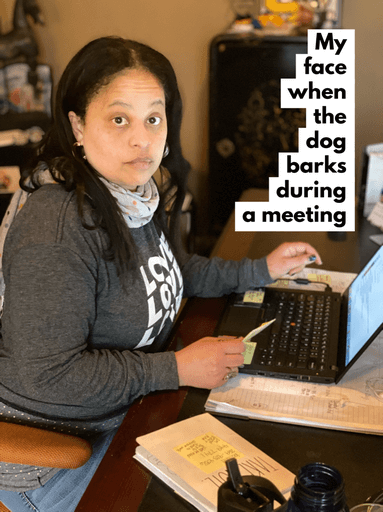 I'm giving myself grace when Amazon comes to the house, or the dogs get pissed off and start barking while I'm trying to present to my colleagues. And, I've been especially aware of the kindness and humor of my colleagues. In our traditional office, I always enjoyed my colleagues. In the non-traditional ever-changing world of COVID-19, I really appreciate them.
While I work from home weekly, I'm typically here by myself. In one short week, we've tripled the number of on-site staff working in Casa Sundy. Now, we have three people using the Internet attempting to connect with the outside world, be productive, and stay on top of the responsibilities we had in our pre-quarantine days. These responsibilities are a lifeline and allow us a natural and sometimes needed break from the togetherness of our reality.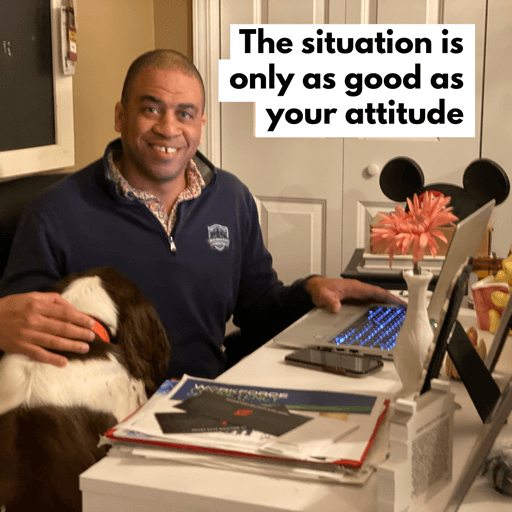 Like the rest of the country, we were not prepared for a long term hiatus from work, friends or family. We did a little scramble and secured medicine, foods, and an extra office chair to accommodate an unexpected third butt that demanded a place to sit for 8 hours a day, five days a week, indefinitely. While we had wipes, toilet paper and plenty of foods securing that emergency office chair was a bit of an adventure! We purchased the last office chair in town and doing so meant another decision tree: do we need this? And in the end, we decided to venture out to a big box store and brave people, germs and uncertainty. It was a good decision, I think. Comfort is priceless.
As the week concludes, I've come to terms with one truth: in an unpredictable situation, the only thing you can control is your attitude.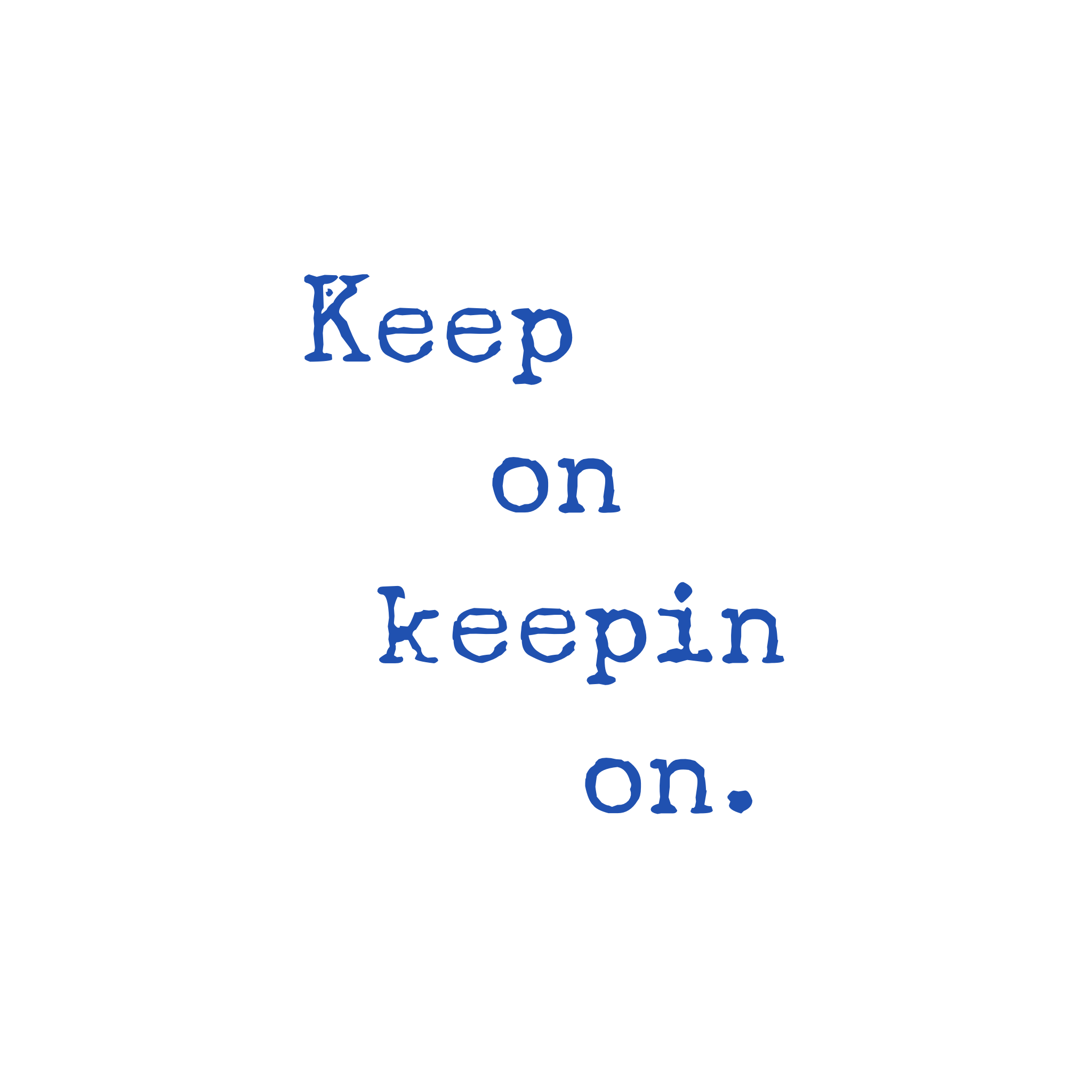 I am grateful to have friends, family, and a good sense of perspective. I know that hard days are ahead–but I'm equally aware that there is a lot of power in a positive attitude and a hopeful heart. It's really tough to do your part in flattening the curve. But, doing what's necessary isn't always easy. And with that, I'm isolating, staying in, and refraining from many of the things and people I love. I'm very willing to put the public good ahead of my convenience and if you're doing this too–as hard as it is–thank you.