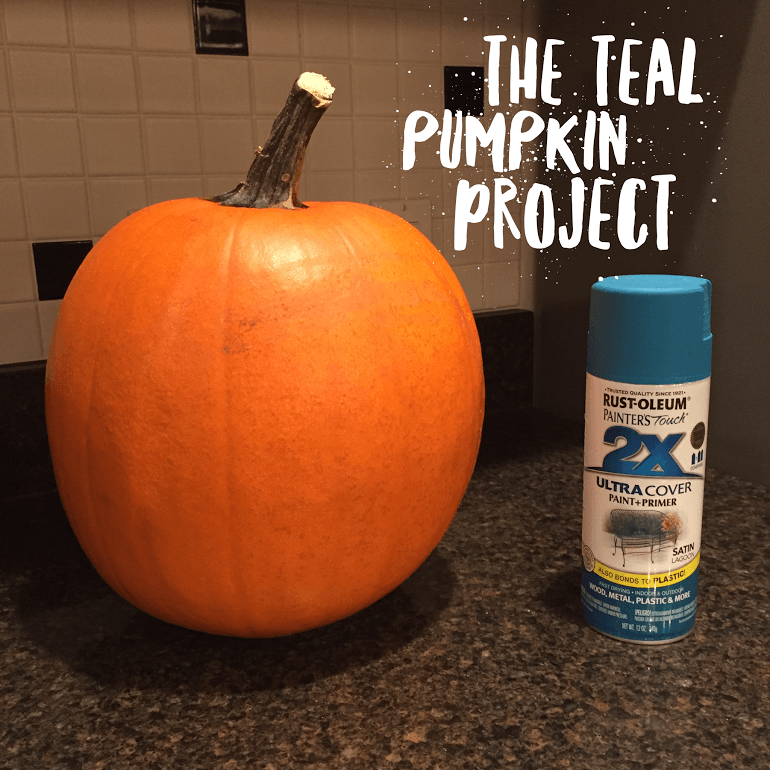 I consider myself an expert on Halloween. Last week, I was eavesdropping on two friends purchasing pumpkins, and was surprised to discover there's actually something about Halloween I didn't know about:the Teal Pumpkin Project!

Halloween is one of my favorite holidays! I love the decorations, the costumes, and trick-or-treating! On Saturday I was out-and-about purchasing my first pumpkin (yes, I said first. Don't judge), I overheard two women chatting. One of the women mentioned that she was going to place a teal pumpkin on her porch. She explained to her friend that Halloween is a tricky (pun intended) time for families managing children with food allergies. Unfortunately, the vast majority of traditional Halloween treats aren't safe for children with life-threatening food allergies. This barrier makes the fun tradition of trick-or-treating prohibitive for these children. I have many friends who manage children with food allergies, and I was impressed to learn about a small and steadily growing movement: the Teal Pumpkin Project.



In 2014, the Teal Pumpkin Project was created to provide opportunities for children with food allergies to experience trick-or-treating.


Teal is the color of food allergy awareness and has been used to raise awareness about this serious medical condition for nearly 20 years. Though relatively new, the Teal Pumpkin Project promotes safety, inclusion and respect of individuals managing food allergies. This worldwide movement offers an alternative for kids with food allergies, as well as other children for whom candy is not an option. Most importantly, it keeps Halloween a fun, positive experience for all!
How to get involved:
Participating is simple. The Teal Pumpkin Project helps make sure all children will come home on Halloween night with something they can enjoy. Here's how to help:
Provide non-food treats for trick-or-treaters. You can purchase small, inexpensive toys to distribute on Halloween. These fun, non-food treats can put a big smile on a little ghost or goblin!
Place a teal pumpkin outside your home to show that you have non-food treats to hand out. Your teal pumpkin will indicate to passersby that you have non-food treats available.
Display a free printable sign or premium poster from FARE in front of your home to explain the meaning of your teal pumpkin. Early posting of the sign will be a signal to trick-or-treaters with food allergies that your home will be welcoming to them. The sign will also educate others in your neighborhood about the Teal Pumpkin Project and encourage them to participate!
I have many friends who work hard to manage their children's food allergies. For these parents (and their friends like me who want to be inclusive), it's a challenge. Sharing food is a social experience, and it can feel limiting and exclusionary when you or someone you love can't participate in fun universal experiences like the tradition of trick-or-treating. With your help, more children can enjoy the experience of trick-or-treating on Halloween.


Need some ideas?
Non-food items are recommended for distribution. Suggestions include non-food treats, such as:
Glow sticks
Glow necklaces and jewelry
Small toys
Stickers
Fun pens or pencils ✏️

The program's sponsor, the Food Allergy Research & Education (FARE) advocates on behalf of the 15 million Americans with food allergies. This Halloween, they hope to have at least one home on every block in the U.S. with a teal pumpkin. This year we'll be painting a few pumpkins teal and placing them on our porch. I hope you will too!