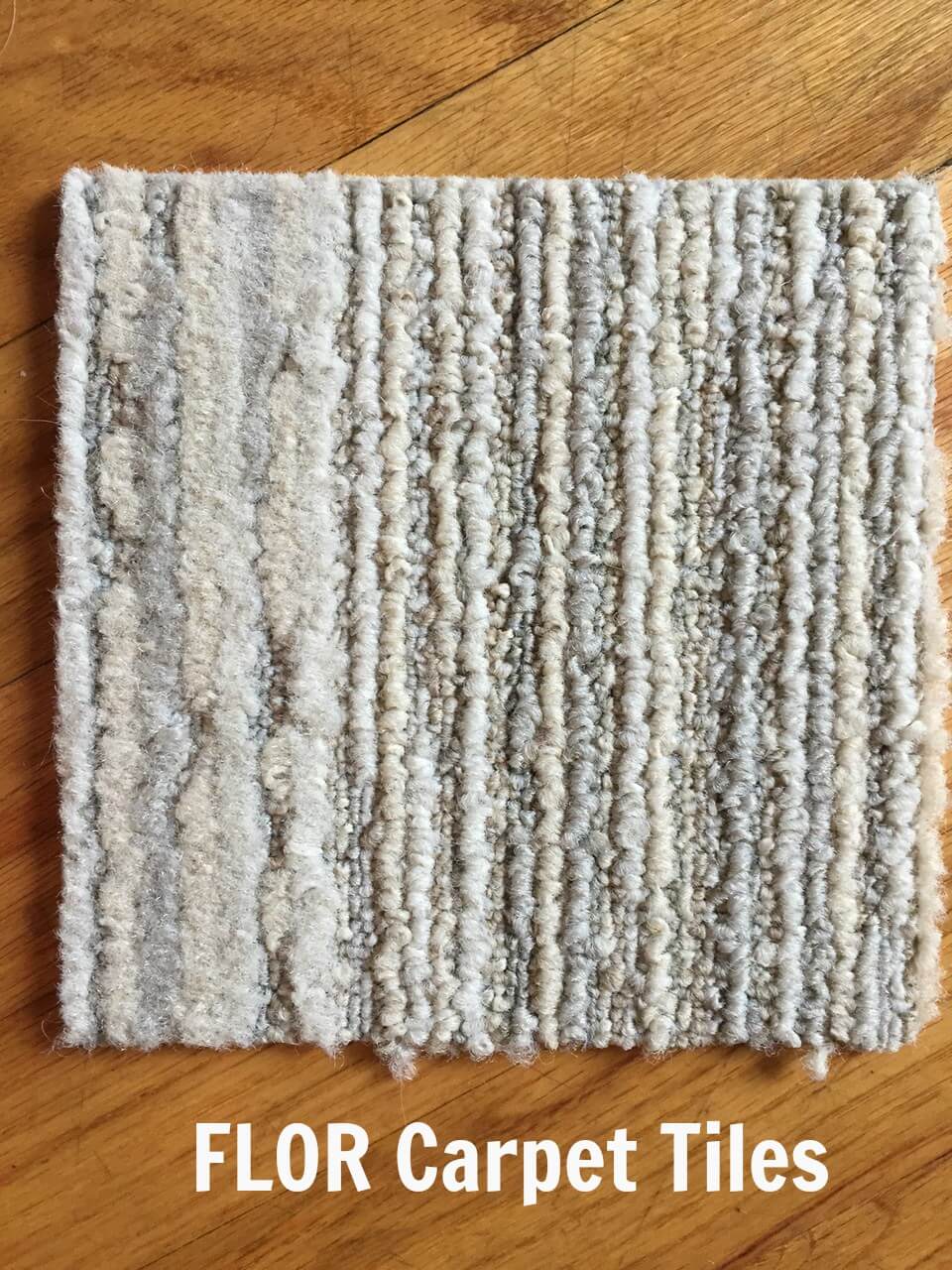 Last year, we moved into a new home. I'm one of those people that takes a long time to pull my house together. Everything has to be done little by little.  So far, the house has been great, but like any new place there are changes and enhancements that we've been making as we've started to build our life in this new home. Having moved a lot and lived in many homes, I firmly believe that it's important to purchase things you like, as you can afford them, to impress your personal style on the place.
As I decorate, I'm trying to customize my house and purchase things based on my taste and the recommendations of others. A few years ago, one of my former colleagues had a beautiful baby nursery. She and her husband were artsy types and liked bold, beautiful design. The carpet in their daughter's nursery was especially impressive. Large, bright, colorful squares decorated the floor. When I asked her where she purchased the carpet she responded, "FLOR".
I wasn't familiar with FLOR and did a little research on the company online. It turns out, FLOR isn't carpet at all. It's actually carpeted floor tiles. FLOR tiles are 50 cm x 50 cm square tiles of carpeting that can be customized, cut-to-order and configured into a rug or even wall-to-wall carpet.
I was excited by the idea of customizing and installing my own carpet tiles and decided to give FLOR a try.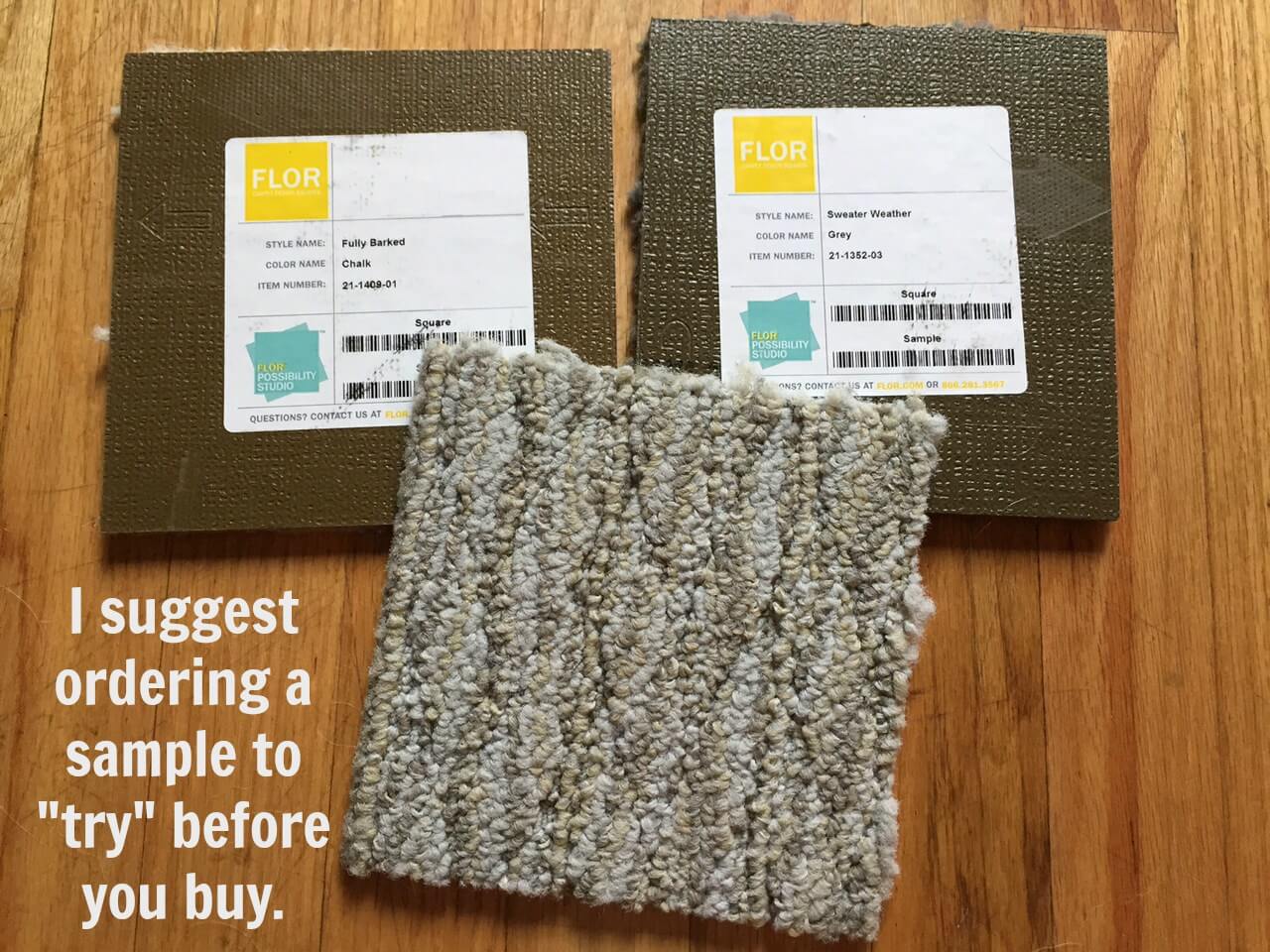 FLOR has its own spacing calculator, which helps you decide how many carpet tiles you'd like and allows you to budget accordingly. At the time, the company was also having a pretty remarkable 25% off sale too!
A sale is always very appealing to me!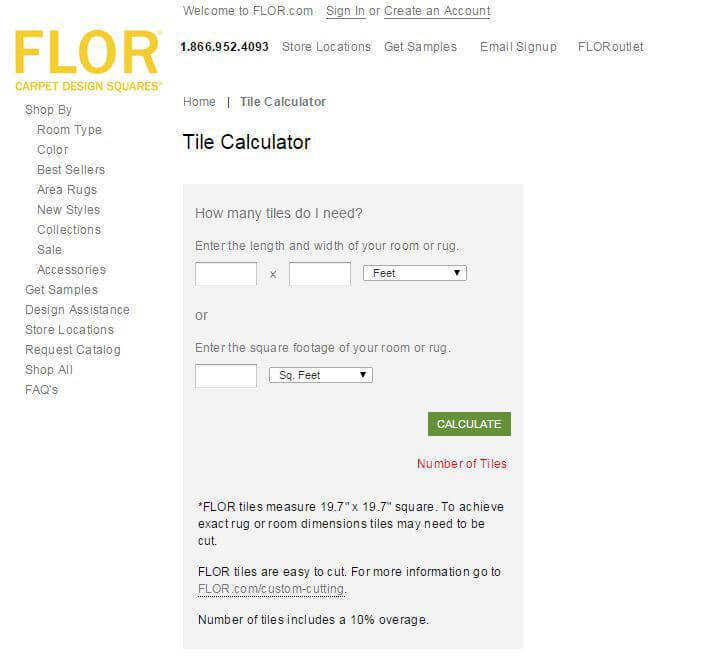 I'm not the most.gif"http://www.flor.com/" target="_blank">FLOR comes with FLOR dots, or stickers that keep the tiles fused together. This makes for an easy do-it-yourself project. How difficult could it be to apply stickers?
The final awesome consideration that I made when considering purchasing FLOR: Jackson and Ranger. They're dogs and they naturally have accidents from time to time. Instead of cleaning the carpet, I liked the idea of having the opportunity to replace it! That seemed easy since I'd be dealing with individual carpet squares.
Despite my enthusiasm, my husband was pretty skeptical. He insisted that we order sample tiles. Samples are available in 6″X6″ square tiles. Samples are priced at $2.00 each and arrive fairly quickly.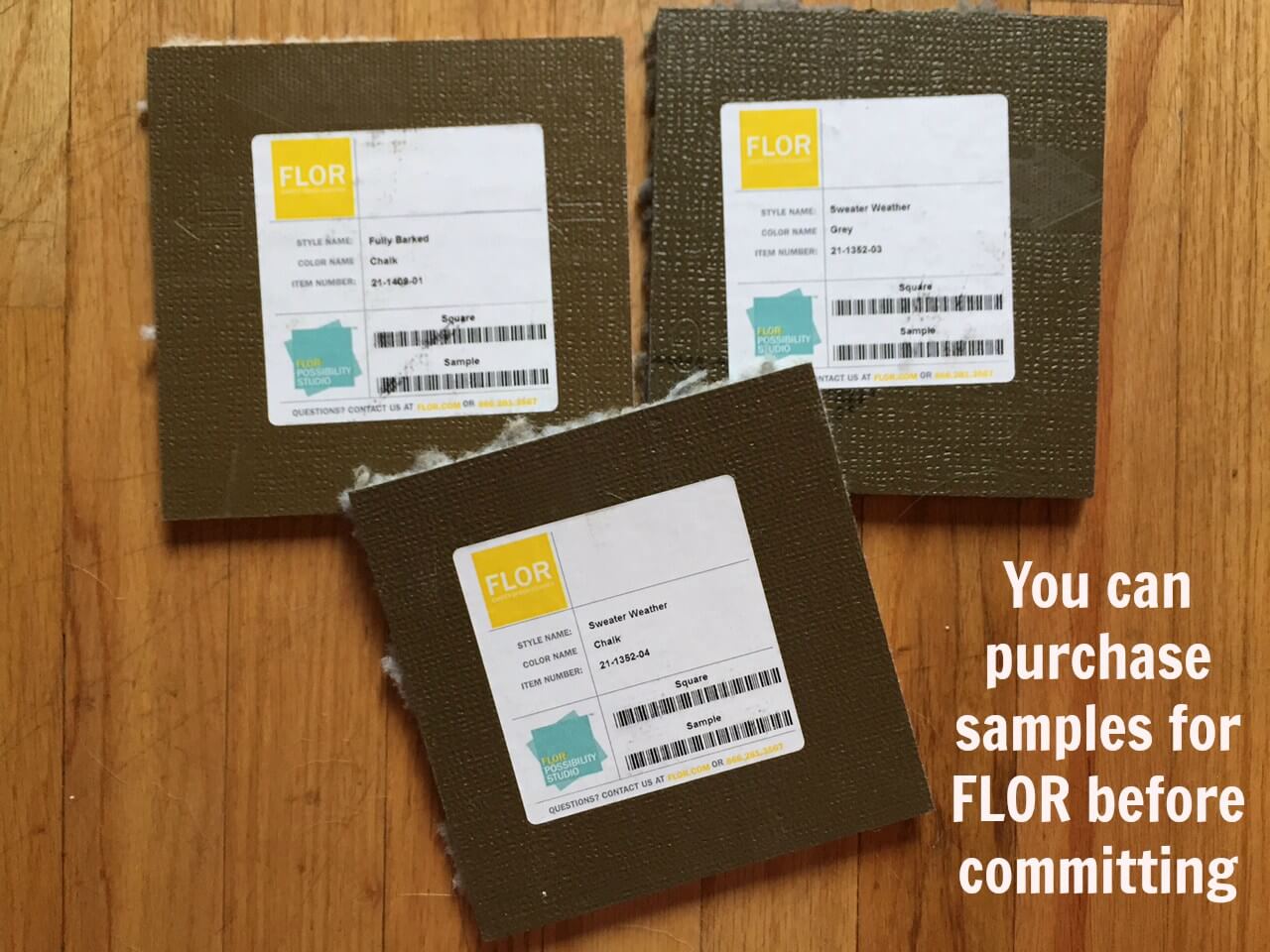 Unfortunately, when the samples arrived, I was really disappointed. Unlike the modern, stylish images on FLOR's website, the tiles appeared matted.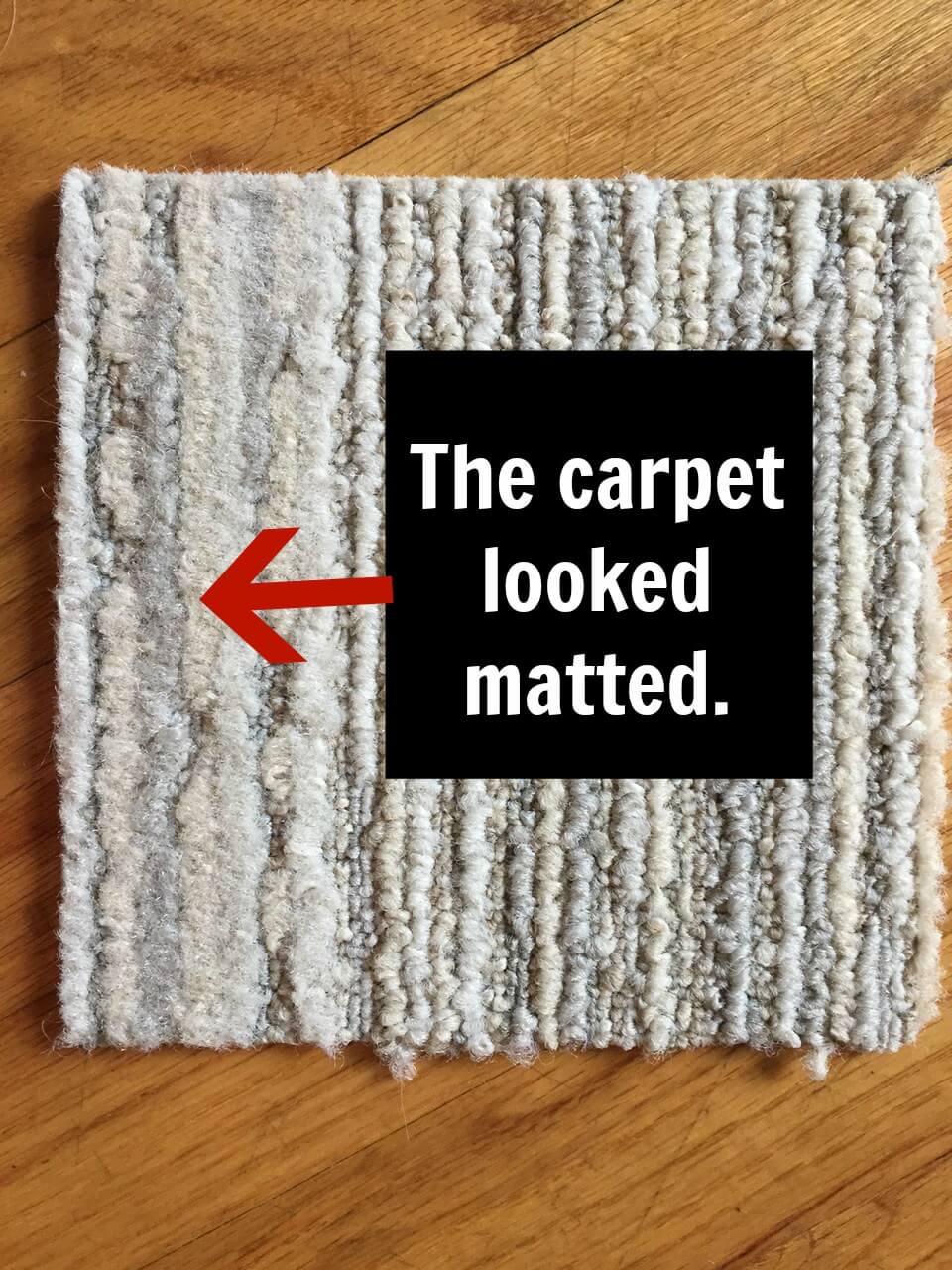 To my surprise and disappointment, the tiles were thin. Really thin.
I left the tiles in the sunshine, near the place where I planned to put them. I hoped they grew on me–and my husband.
Last week, I was walking through Target and spied a grey and yellow rug: exactly what I had planned to create myself with the FLOR carpet tiles. On a whim, I brought it home, knowing I could return it, and curious to see how the Target area rug compared to my FLOR sample tiles.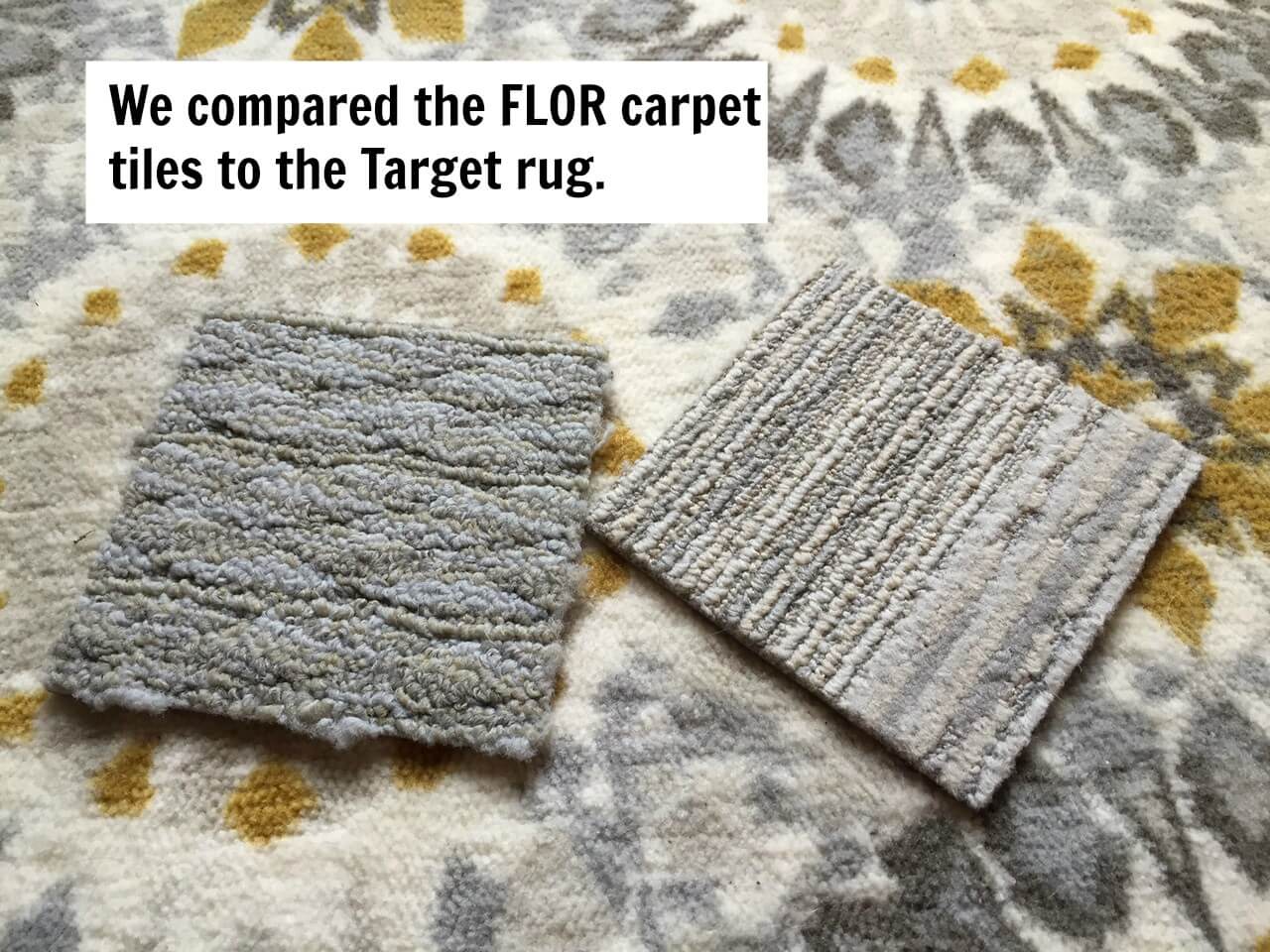 I unrolled the rug expecting nothing.
To my surprise, the Target area rug was thicker, and had better pile and quality.
The Target rug also didn't require assembly and was $40.00 less expensive!
For his part, my husband was also disappointed. While he was initially skeptical, even he was surprised by the quality and condition of the samples.
We opted to keep the rug from Target. It was a better deal, it was of better quality, and a great modern design.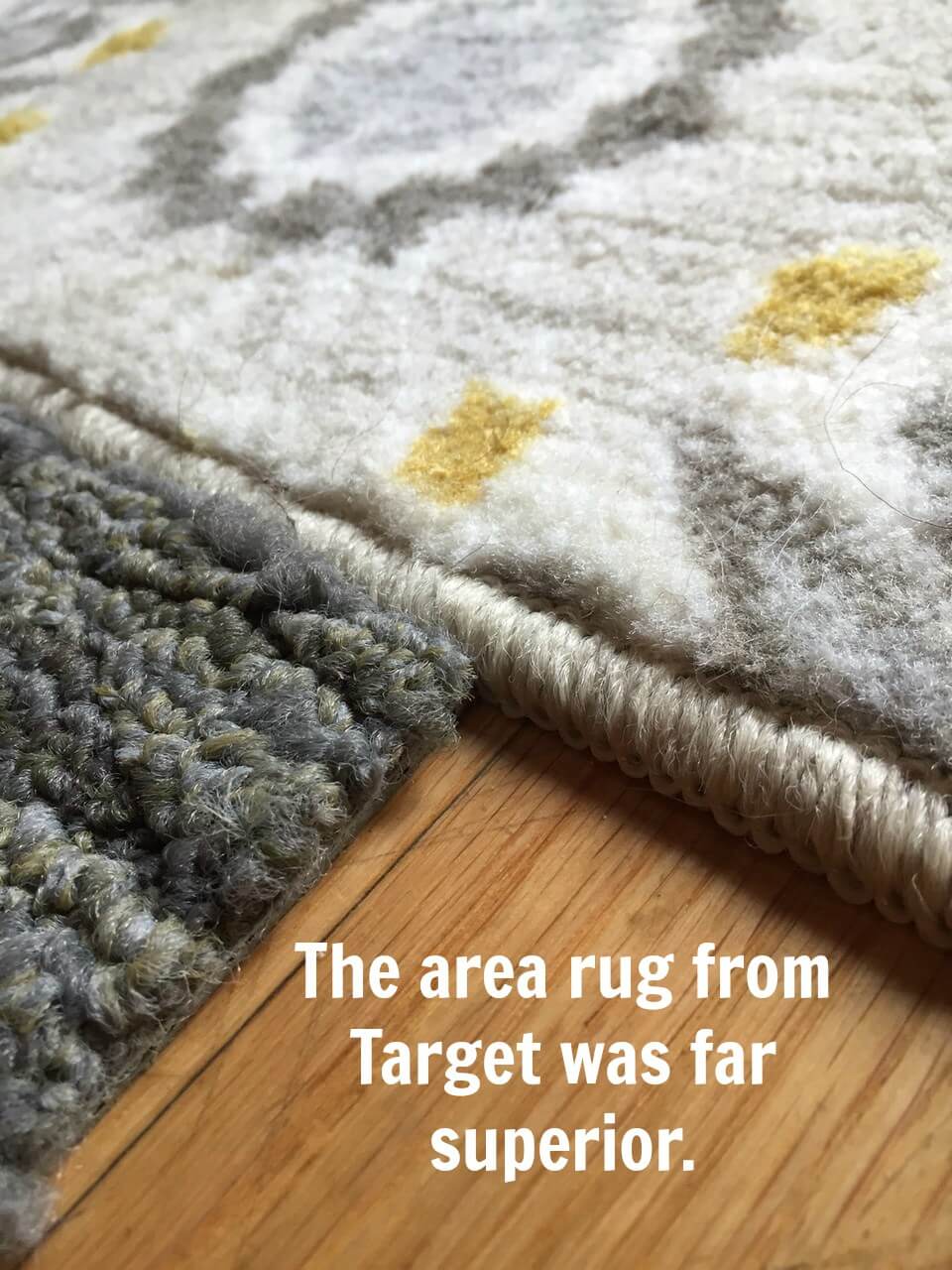 In the end, I'm glad we ordered the sample and compared products before investing in a FLOR rug. I'm very guilty of blindly purchasing things online. Rarely do I see something before purchasing it and I'm glad we ordered the sample tiles before committing our money to something expensive and disappointing.
How about you? Do you order things online or look at them first? Tell me in the comments below!