This Thanksgiving, set your table with toilet paper rolls!
I have a confession to make: we've reached the time of year when I run around beg, borrowing  and stealing toilet paper rolls.  There. I've said it: I collect toilet paper rolls.
Did you know that used toilet paper rolls make the very best napkin rings? 
As November arrives, entertaining season begins in our home. We love entertaining and find every excuse to bring family and friends to the table in our home.
And, while I love entertaining, I have no problem being a guest in someone else's home too. Between now and the New Year, I'll be spending my time receiving company and making handmade hostess.gif"aligncenter size-large wp-image-958" src="https://www.nowthisis40.com/wp-content/uploads/2016/10/Napkin_Affordable_Hostess.gif" alt="napkin" width="1024" height="768" >
Some of my favorite restaurant use professional grade dish towels as napkins. I love the look and feel of an over-sized dish towel, repurposed as a dinner napkin. Earlier in the year, when we attended Diner en Blanc, we used for Flour Sack towels for napkins. While the towels were aesthetically pleasing, they were not very absorbent or substantial. I checked Amazon for another towel option, and found a towel from a vendor called, "Keeble Outlets". I contacted the company and requested a sample for review.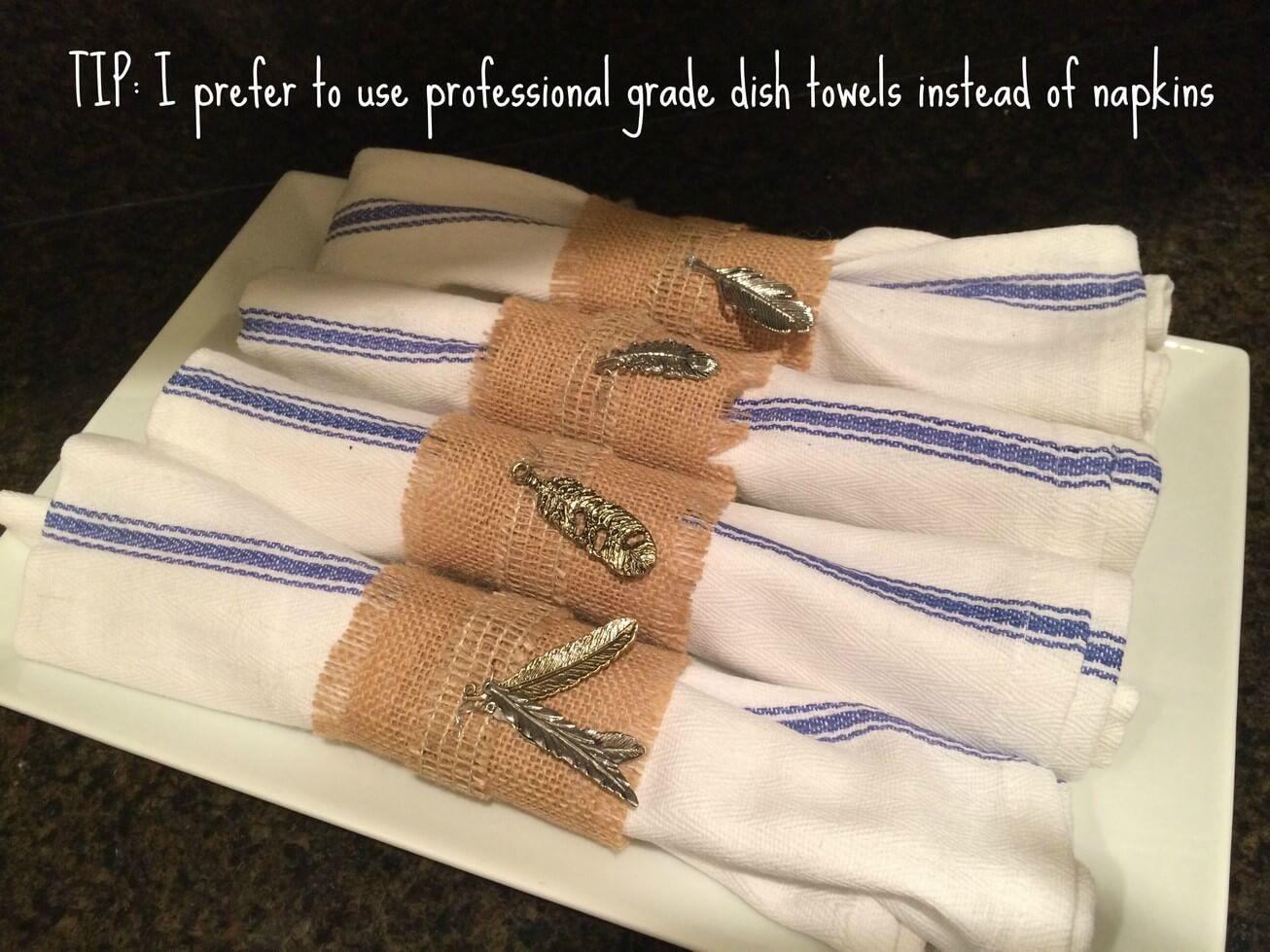 Keeble Outlets shipped out its towel with the blue stitching. They arrived neatly folded and nicely packed in a clear plastic bag. The towels resembled napkins with neatly sewn edges and pretty blue stitching.  These soft cotton towels were a nice choice. I choose them because they are also affordable. With 18 towels available for $19.99, I could affordably give each hostess 6 towels and napkin rings for less than $10.00!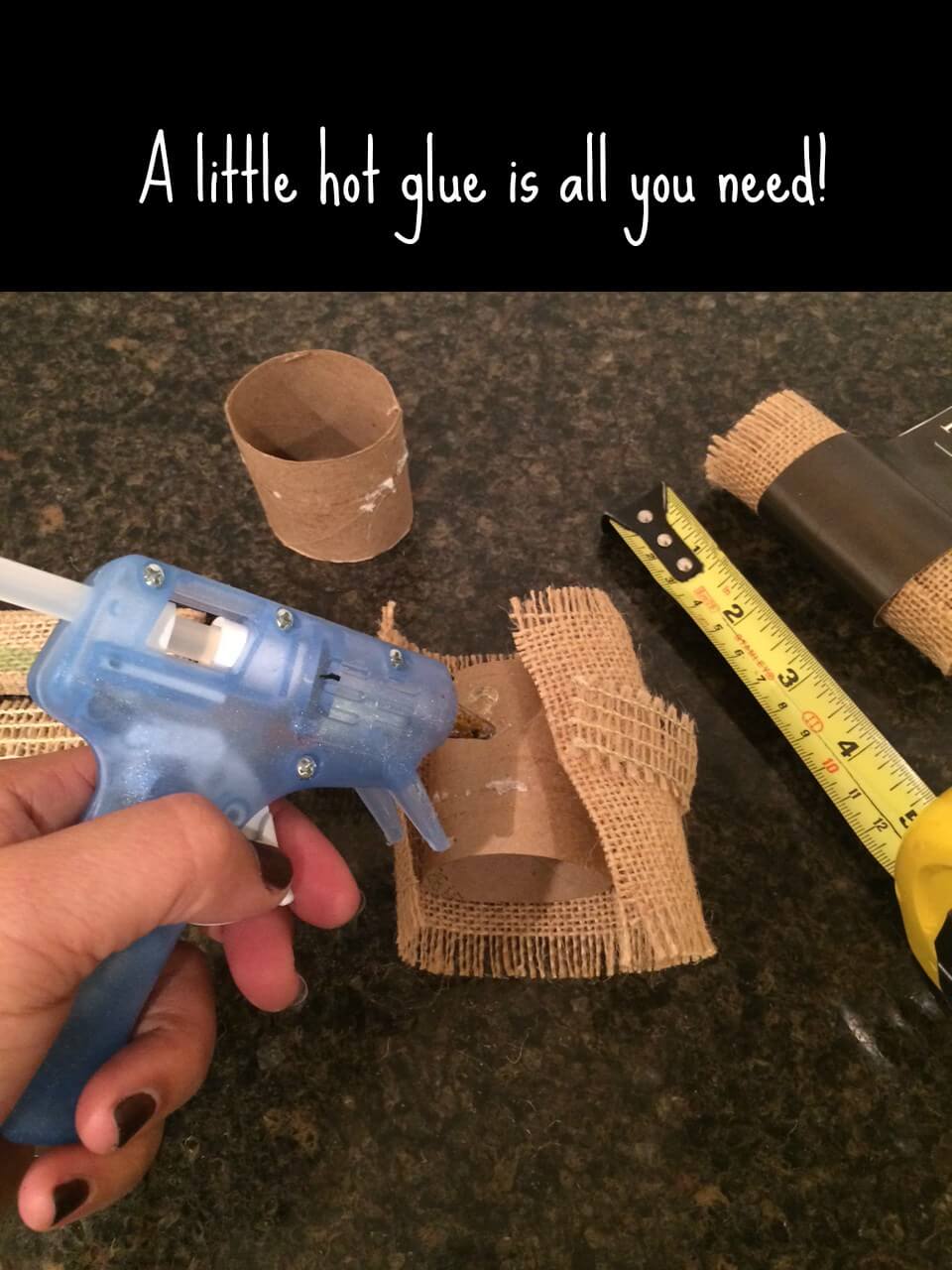 The Keeble Kitchen Towels are constructed of 24 oz. (commercial weight) higher density cotton. They have a nice herringbone design and were an improvement over my previous favorite napkin choice: Flour Sack napkins.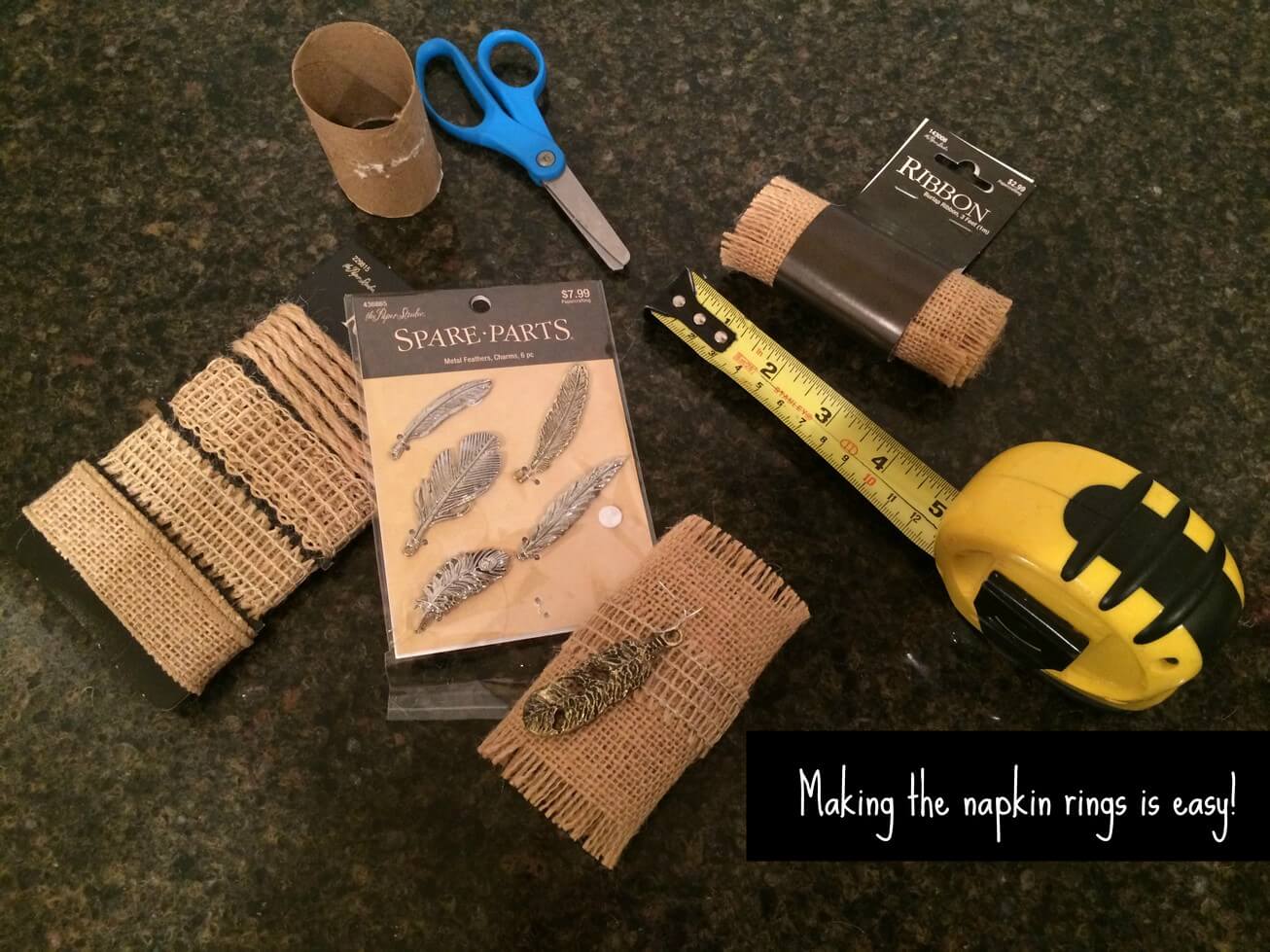 I love all craft stores and happen to work near a Hobby Lobby. However, any craft store (and Walmart too!) has burlap, ribbon and scrapbook charms. And, while I chose to use scrapbook charms (because they were within my budget), I would consider going to Goodwill and purchasing costume earrings instead of charms…maybe for New Years Eve when I'm looking for a little more bling?

In this instance, I used my app, and purchased the materials for this project from Hobby Lobby's private label brand of embellishments called, "Spare Parts."  I selected my embellishments from the Silver & Gold set of 6 feathers (which were $7.99, and 40% off), and purchased two sets of Spare Parts burlap.

Normally, I wouldn't have purchased pre-cut burlap, but I liked the way the edges were frayed, and with my coupon, I was able to purchase 4″ of frayed burlap for $1.50. To finish the look, I purchased a variety pack of burlap ribbon to give the napkin rings a little contrast. The variety pack was only $2.00, and was also found in the paper section of the store.


Making the DIY napkin rings is an easy and affordable way to enhance your holiday table.
Take an empty toilet paper roll, and remove any excess toilet paper.
Cut the toilet paper roll in half.
Unroll the frayed burlap and measure using the cardboard roll. Wrap the frayed burlap around the roll one time and cut.
Use a hot glue gun to secure the frayed burlap to the cardboard toilet paper roll. Be careful not to burn your hands!
Stand each roll and allow to dry
Take burlap scraps/ribbon that you want to use as a secondary embellishment.
Wrap around the toilet paper roll to measure. Cut.
After the secondary enhancement is the desired length, adhere carefully with glue gun and allow to dry.
Thread wires of charm through secondary embellishment. Apply a small amount of glue to secure charm.
If you decide to DIY your own napkin rings, tag me on Instagram and let me know at: @kmbowsundy!