I recently attended my first Dîner en Blanc event in Chicago!

I was excited to attend the event, but it took a lot of hard work and preparation!
Following my experience, I'd like to share some tips for you, to enhance your experience!
1. Pack reasonably. Packing is not my strong suit, and I brought way too much stuff to Dîner en Blanc. I was a bit overwhelmed by the packing list and the amount of items we needed to procure: chairs, tables, and all-white-everything. I ended up tossing things in different bags and making the best of it.
If time permits, source your table first. The table is the most important element you'll purchase, and the event works better if you've sourced the correct table because space is at a premium, and you'll want to leverage every edge of your neighbor's table. I'd also suggest a rolling luggage rack to carry your chairs on. This will make for a smooth and easy journey.
Organizers aren't kidding when they tell you that you'll be walking far.
We ended up taking two CTA trains, and dragging our items down two flights of very, very steep stairs. (Big post-event  thank you to the Chicago Cubs fan who took one look at my sweaty body and helped me carry my 40 lb suitcase down a very steep flight of stairs).
2. Pack your favorite foods–and opt for several small plate options. While event organizers offer a lovely catered meal, my friends and I opted to visit the hot bar at Whole Foods and gather our favorite salads, meats, cheeses and desserts. The items we purchased were share-able and a sure thing. After all of the work it took to get to the venue, I was NOT in the mood for any surprises when it was time to eat!
Many of the people I spoke with choose to leverage the catering option. They made this decision citing that they were not interested in carrying food with them–there were a lot of other things to schlep: tables, chairs and decorations.
At our dinner, legal restrictions mandated that we purchase wine from a vendor before the event, and could only consume pre-purchased wine. I loved this stipulation, because wine is HEAVY and I was thrilled to pick up our bottles on site.
The woman we sat next to was an organic farmer, and grew all of the greens for her salad! She also grew mint (which she included in her Voss water bottles), and edible flowers and used them to garnish everything she brought. While I was stunned, I also thrilled to be sitting next to someone who was willing to share her bounty–literally.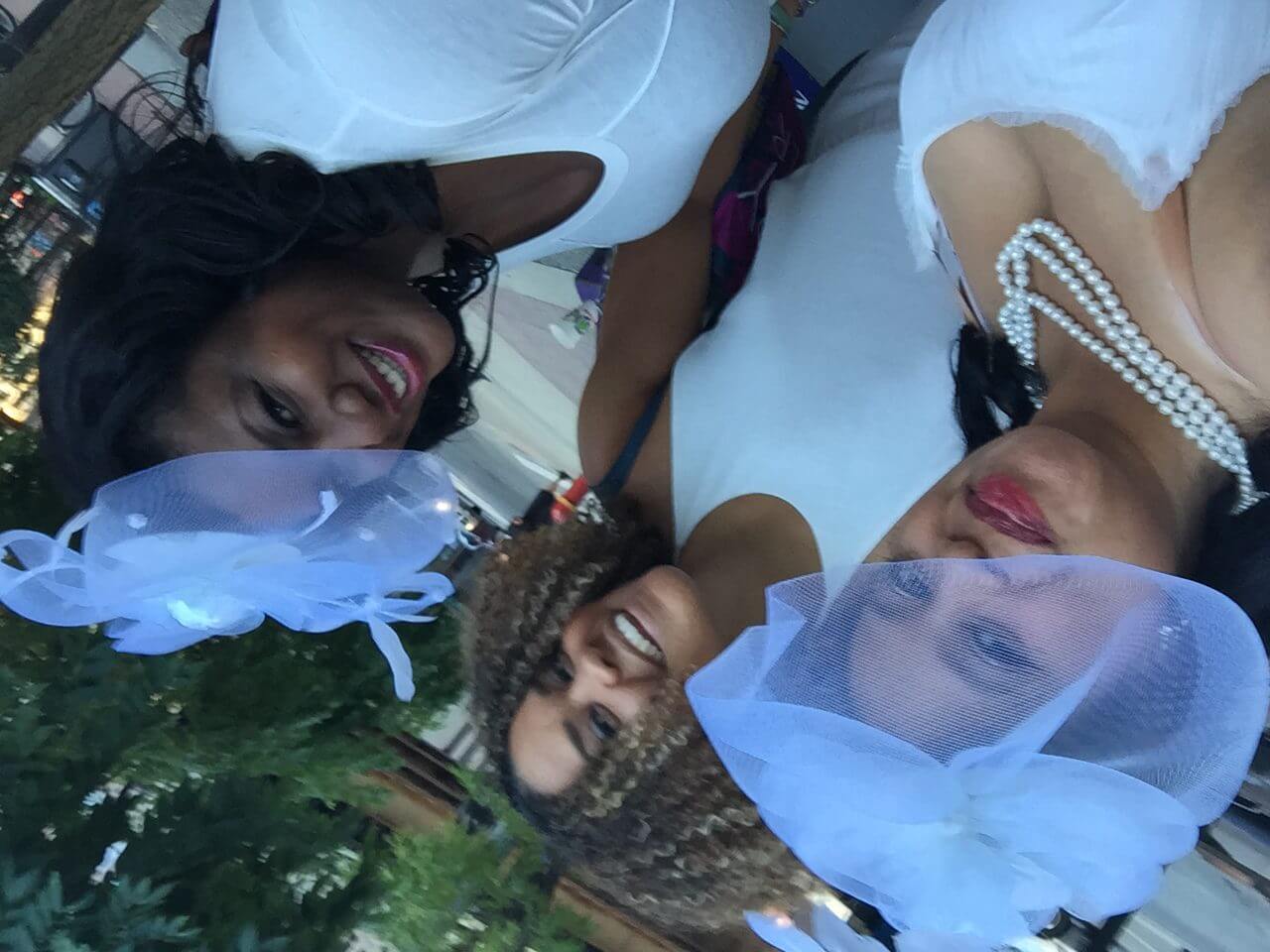 3. Bring a camera. And if your iPhone is your camera, bring a charger. Admittedly, I take more photos than the average person. However, at the event there are many things you'll want to photograph: your friends, the strangers you meet who become your friends, the venue, and of course, your lovely table and the people who came with you. Come prepared to snap photos all night long.
Many of the sponsors have great photo opportunities in place. And, fortunately, they also have established an opportunity for you to email the photos a professional captures to your email account. Take advantage of this, and be sure to stand in line as early as you can. The night passes quickly, and you'll want to make sure you seize the opportunity to enjoy the promotional photo opportunities.
Celebrity Cruises even distributed wine coolers! What a great promotional item. Almost everyone at the event put them to immediate use.  The coolers kept the wine cold and will be great for future picnics.
In Chicago, we were lucky enough to partner with Fotio, a company that specializes in fun event photography. Standing before a modern "vintage" camera, guests can activate the plunger (see it in my hand?) and snap beautiful black and white selfies.
Fotio was a fun addition to the event, and a nice surprise in my inbox the following morning!
4. Light up the night.  While we arrived at our location during daylight, the sun set quickly. We invested in lantern centerpieces, and David Tutera bridal lighting. I'm not being paid to suggest this–I'm telling suggesting the David Tutera lighting because it was a-mazing. It was purchased at JoAnne Fabrics and it was fully battery powered. This lighting kept the table well lit, and made for a romantic scene when the sun went down.
5. Do a trial-run. I found that we had big ideas and limited space. We spent time in the afternoon, immediately preceding the event doing a trial-run–and it was worthwhile. We learned how to set up our table, and made final decisions on table enhancements.
One of my favorite enhancements were these paper flowers from Martha Stewart. These flowers really added a lot of personality to our table. We used them to decorate the back of our chairs, and they made our seats easy to find after we had wandered off following dinner.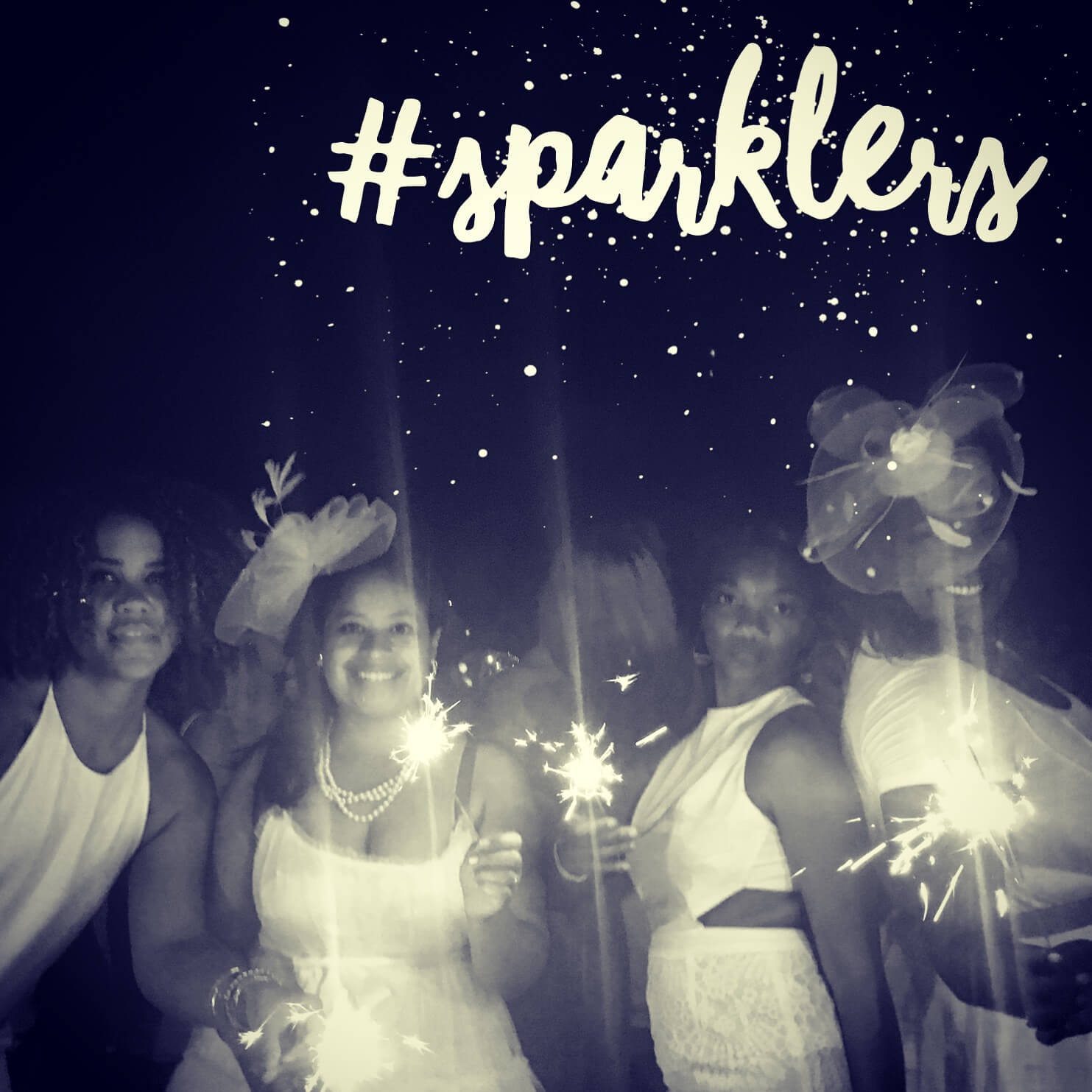 6. Wear white. According to the rules, every table captain has the right to refuse you entry if you do not adhere to the dress code.
Do yourself a favor and wear white.
All white.
Do not wear cream, off- white, or beige.
Preparing and participating in the event is a lot of fun. Don't ruin it by skirting the rules!
7. Keep it simple, and keep it organized.
In the spirit of setting the table, we opted for standard round plates, chargers, water glasses, wine glasses, and probably too much silverware. The woman in the photo above had this snappy trolley–and brought everything in one cart. I highly suggest this approach. She used small containers to divide her food, and her life was a dream on site!
Our group was divided into two camps: one segment that wanted hot (or warm) food, and the other segment that did not care. This made for a lot of bags–an insulated bag, a food bag, a bag of ice, etc.
Next year, I am going to pack one bag, with single containers: salads in Mason jars, and small Tupperware containers featuring individual jars with lids. We had individual bottles of Voss water, and they worked well.
8. If you have any questions before or during the event, ask your table leader. Our table leader was a great help. She answered questions, and communicated often, in advance of the event. Day of she called or texted everyone to make sure we we all-set and ready to go. When we arrived at our secret meeting spot, she provided each of us with long stemmed daisies to make sure we didn't lose each other as we made our way across town to the secret location.
9. Bring your own style and flair with you. While I probably didn't need to mention this, I was impressed by the personal style and flair each person brought to the event.
While there were thousands of people at the event, I didn't see anyone in the exact same outfit! Participants took great care to accessorize, and provide flair to their ensembles. The dress I ordered for the event didn't come—and still hasn't appeared–almost a week after the event. I suggest having a back-up, if you don't generally wear white, or are ordering something new!
This event is a great place to show off your style and try something out-of-the box!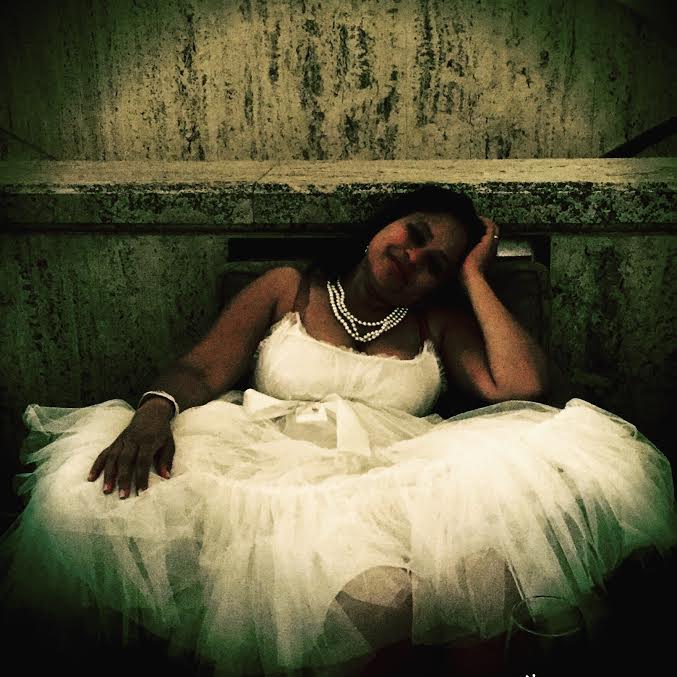 10. Have fun! To her credit, Jasmine went crazy on the DIY elements to our Diner en Blanc celebration. She painted white picture frames, went shopping for lights, candles and flowers at the craft store, and really worked to build fun elements into our experience.
Everything she did was sharable, the picture frame, especially.
People loved coming up to us and taking photos with it–and borrowing it for their own photos. She simply purchased a picture from Goodwill, removed the picture and painted the frame white.
More than anything, the evening was a wonderful celebration of friendship and food.
Have you attended a Dîner en Blanc celebration before?
Do you have any tips or thoughts? Please tell me in the comments below!