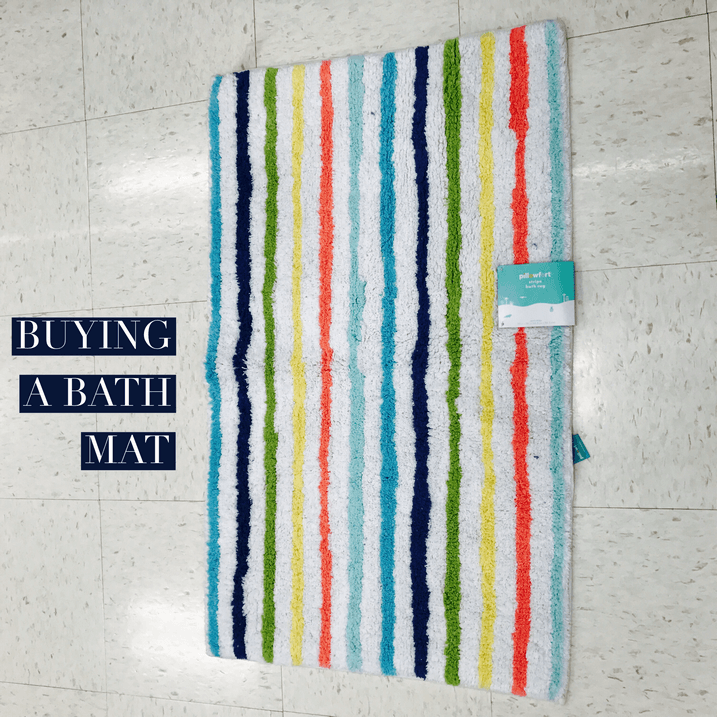 Buying a bath mat is a great way to decorate and update your bathroom on a budget.

I'm officially over winter, and I have Spring Fever.

Which means, the closer we get to spring, the more anxious I become about overhauling everything.

I start throwing things out and fixating on what's old and what needs to be replaced.

But I'm also pretty cheap.

And because I'm cheap, I like to make lots of small improvements and decor enhancements. Because I make lots of small changes, they probably end up costing me as much as a few big ones, but by spreading out the costs, I seem to be able to stomach it a bit more.

Today I decided that we needed to replace our bathmats.
We recently installed the Nest (which we are quickly developing a love/hate relationship with) and in an effort to control our heating costs, we now wake up to a very frigid bathroom floor.
In the spirit of warming up the floor and our bathroom decor, I headed over to Target to buy some new bath mats.
Bath mats offer an easy way to update your bathroom at a low price.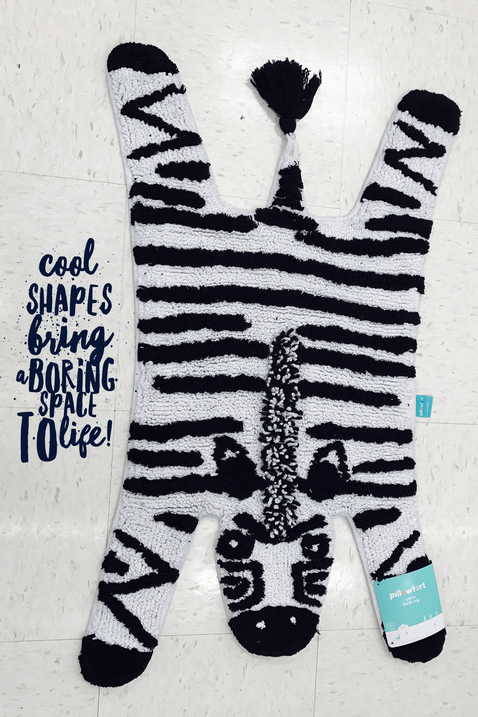 I'm tired and clumsy in the morning–so my only real "must" was that the bath mat needed to have a no-slip grip on the bottom.
Target seemed to offer a lot of options: they had a wide variety of prices, shapes, and styles and I wanted to challenge myself to try shopping at a store other than TJ Maxx (where lately I seem to buy everything, even groceries).

I'm not sure how much I was expecting a bath mat to cost (since I haven't purchased one in a really long time) but I nearly fainted when I saw that the average price for a new bath mat was $24.99.

Our bathroom needs three bath mats: two for our Jack and Jill sinks and one for our shower.

There was no way I planned to spend $75.00 on bath mats.

But I really needed three, because the Nest is insisting that we keep the heat low. At night it dips to 62 degrees in our home–and the bathroom floor is a freezing wake up call in the mornings. So I did what any savvy Target shopper would do: I cruised the end caps and found some great bath mats on clearance.
While I loved the animals, I had to settle for a mash-up–one shark and two rainbow bath mats for $30.00. I felt good about the number of rugs I purchased for the price in the end.

How about you? Does the Spring make you want to freshen up and redecorate?

To celebrate all things updated, I'm hosting a fun Target giveaway! You can enter between now and the end of the month for a chance to win a $200 Target.gif"https://www.nowthisis40.com/wp-content/uploads/2017/03/Target_Giveaway.png" alt="Target_Giveaway" width="640" height="640" class="aligncenter size-full wp-image-1328" >

GIVEAWAY DETAILS
Prize: $200 Target.gif"rcptr" href="https://www.rafflecopter.com/rafl/display/97fa25291079/" rel="nofollow" data-raflid="97fa25291079" data-theme="classic" data-template="" id="rcwidget_kz8gyqrr">a Rafflecopter giveaway

O