I recently purchased a pair of shoes from a company called, "BucketFeet",  and I'm in love with them. What's not to love about gold canvas shoes with pineapple/grenade graffiti inspired designs on them? 
While I love the shoes and the design, I'm pretty impressed with the company too. While there's so much to love about this Chicago-based start up, I thought I'd share the top 5 reasons you'll love BucketFeet–a brand I accidently stumbled upon at a conference! Big thanks to their PR people for providing some of the images that made this story possible– I requested them because I thought you'd love to see some of the behind-the-scenes images from the company's blog.
1. The Company Was Started By BFFs.
BucketFeet is the story of two strangers who became friends.
Isn't that the story of every great friendship? 
These strangers were traveling through Argentina, met, and quickly became friends. One of the strangers drew an original design on a pair of shoes and gave them to his friend as a goodbye present. The friend traveled across six continents, wearing the shoes designed by his friend. His shoes sparked conversations with people from all over the world, prompting the friends to reconnect and begin building a brand committed to collaborating with artists.
Love it.
2. This company supports artists and pays them fairly.
BucketFeet manufactures and distributes its shoes throughout the world. Artists receive an upfront payment and a royalty fee for every item sold. I love this because so often, creative people are not fairly compensated for their work. They are here. BucketFeet was founded on the principle that it is possible and desirable, to connect people through art. Most definitely!
The company takes an open platform approach where anyone can submit a design for consideration. Currently, BucketFeet works with more than 20,000 artists from different 100 countries.  There are no restrictions for applying–everyone is encouraged to join as the brand is committed to connecting people through art. Following submission,  an in-house committee selects the pieces that will be included in each upcoming BucketFeet collection.
3.  BucketFeet also supports graffiti artists. 
I'm a huge fan of graffiti artists. In fact, most of the people who follow me on Instagram, follow me because of my graffiti posts. For me, graffiti is the original, most uninterrupted form of art.
I love it. And I love that BucketFeet works with artists in every medium: painters, graphic designers, graffiti writers, street artists, photographers, etc.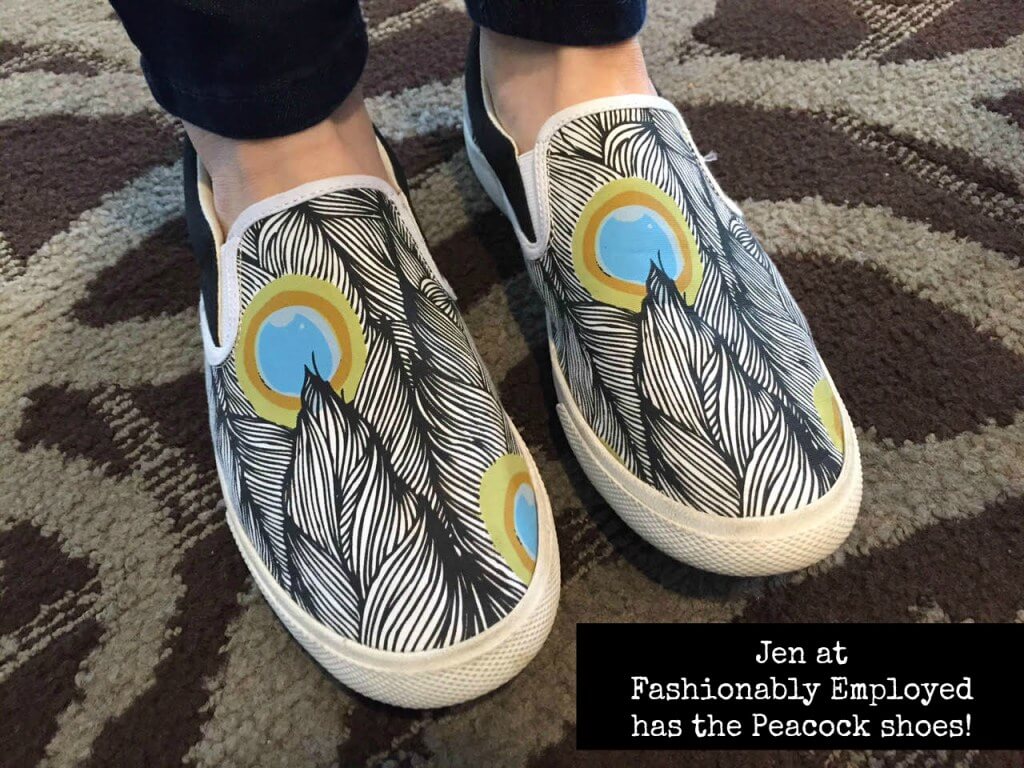 4. Cool people (like Fashion bloggers) love and wear these shoes. 
Last year, I attended a blogging conference in Chicago. I happened to compliment a woman on her shoes, not knowing that she was a fashion blogger. It turns out, she loves start-up companies too, and had recently written a post about the shoes. I loved hearing her talk about the brand, and its pieces.
And P.S.— who doesn't appreciate the advice and suggestions of a fashion blogger?
5. Affordable shipping. 
I purchase almost everything online. And, if I don't purchase something online, I try to buy local when it comes to clothing. So, shipping costs matter to me. A lot. And I love BucketFeet's affordable shipping. The company offers free shipping for orders of $50 or more, in the continental USA. And, for orders less than $50 within the continental USA, they charge $5.
Super reasonable.
Would you like to see for yourself? Check out the brand here.