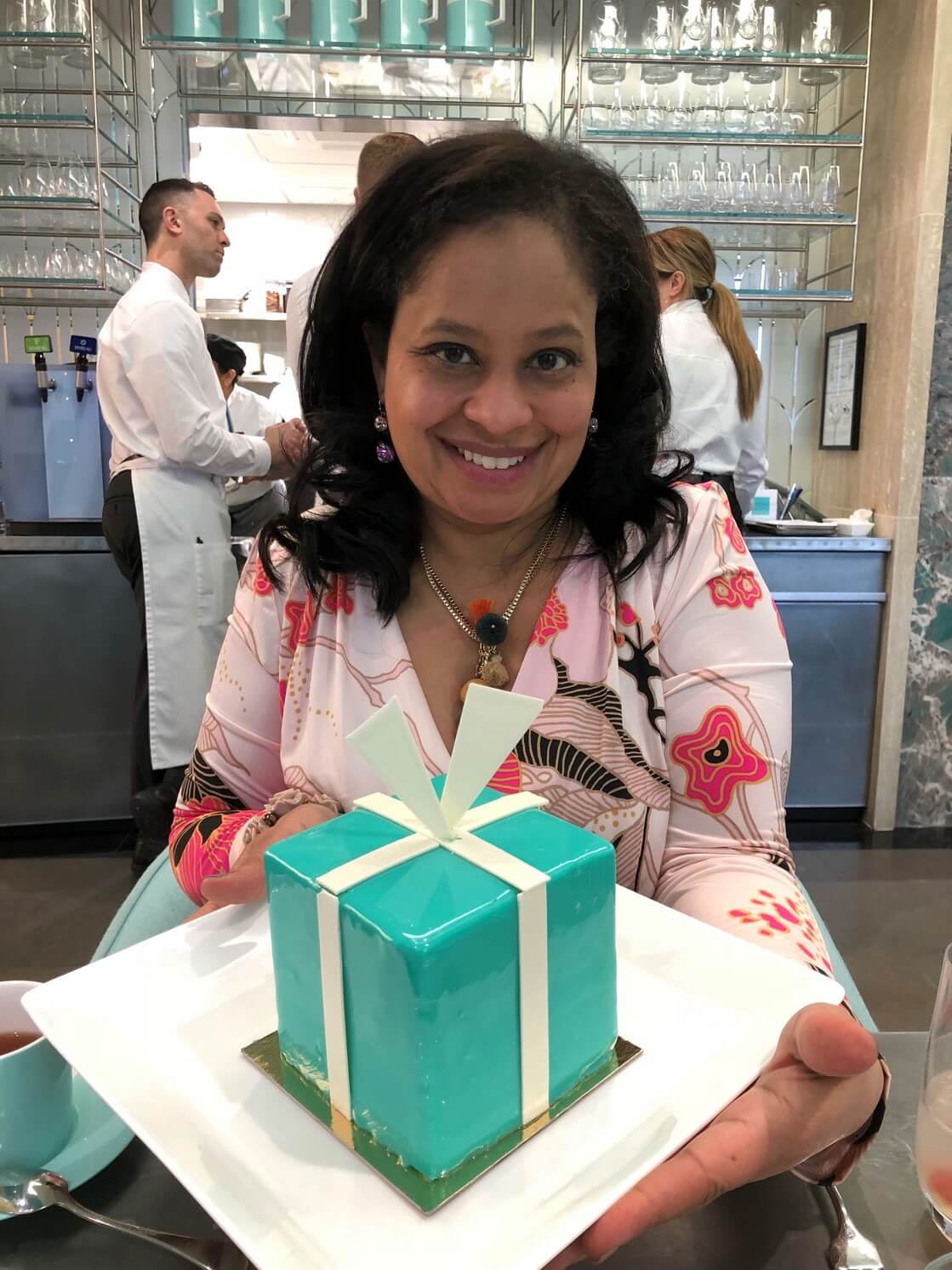 Everyone should grab a girlfriend and head to the Blue Box Cafe to enjoy Breakfast At Tiffany's.
My friend Beth and I flew to NYC to run through Central Park and dine at Tiffany & Co.'s new restaurant, the Blue Box Cafe.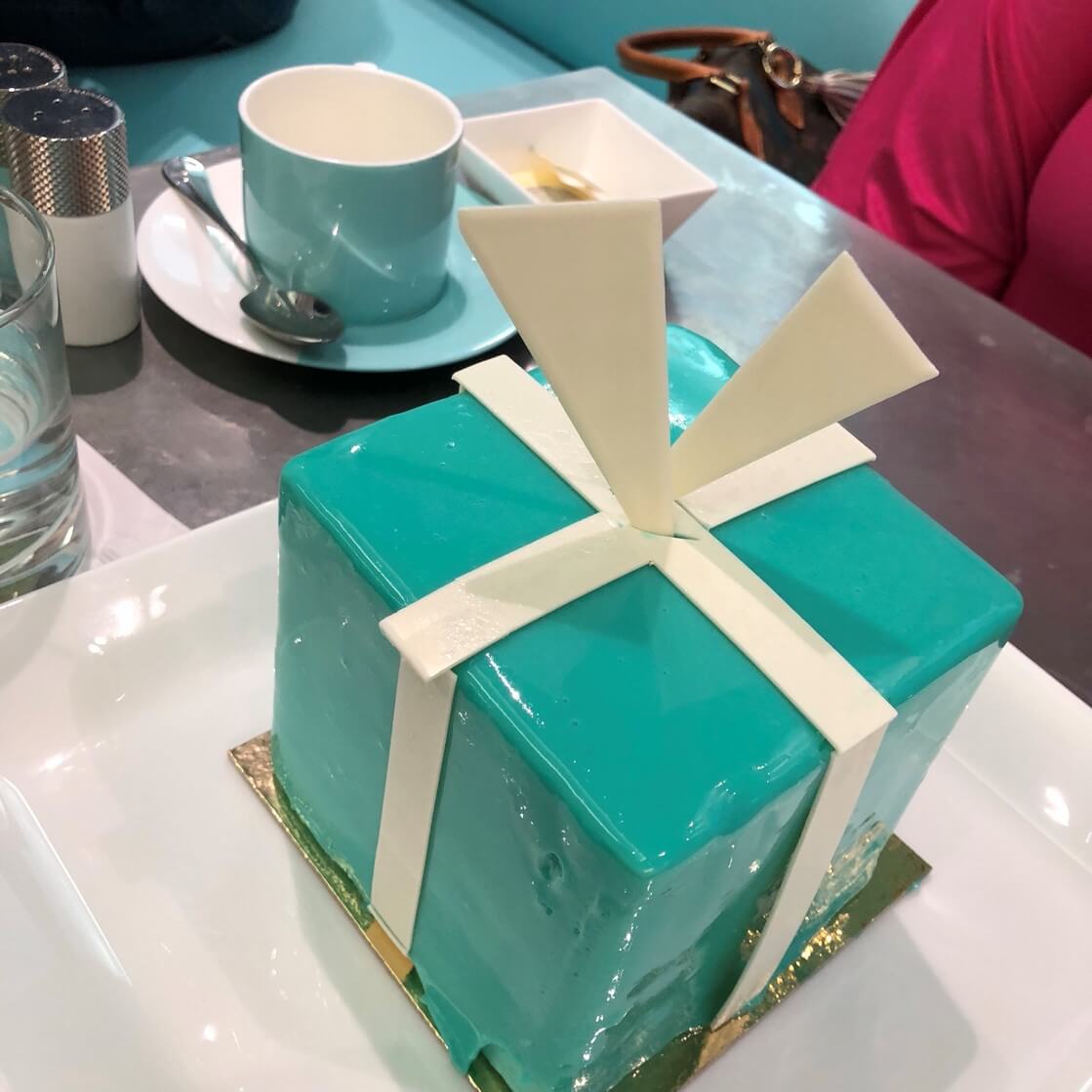 The Blue Box Cafe is located on the fourth floor of Tiffany's flagship New York City store, adjacent to the company's new "Everyday Objects" collection.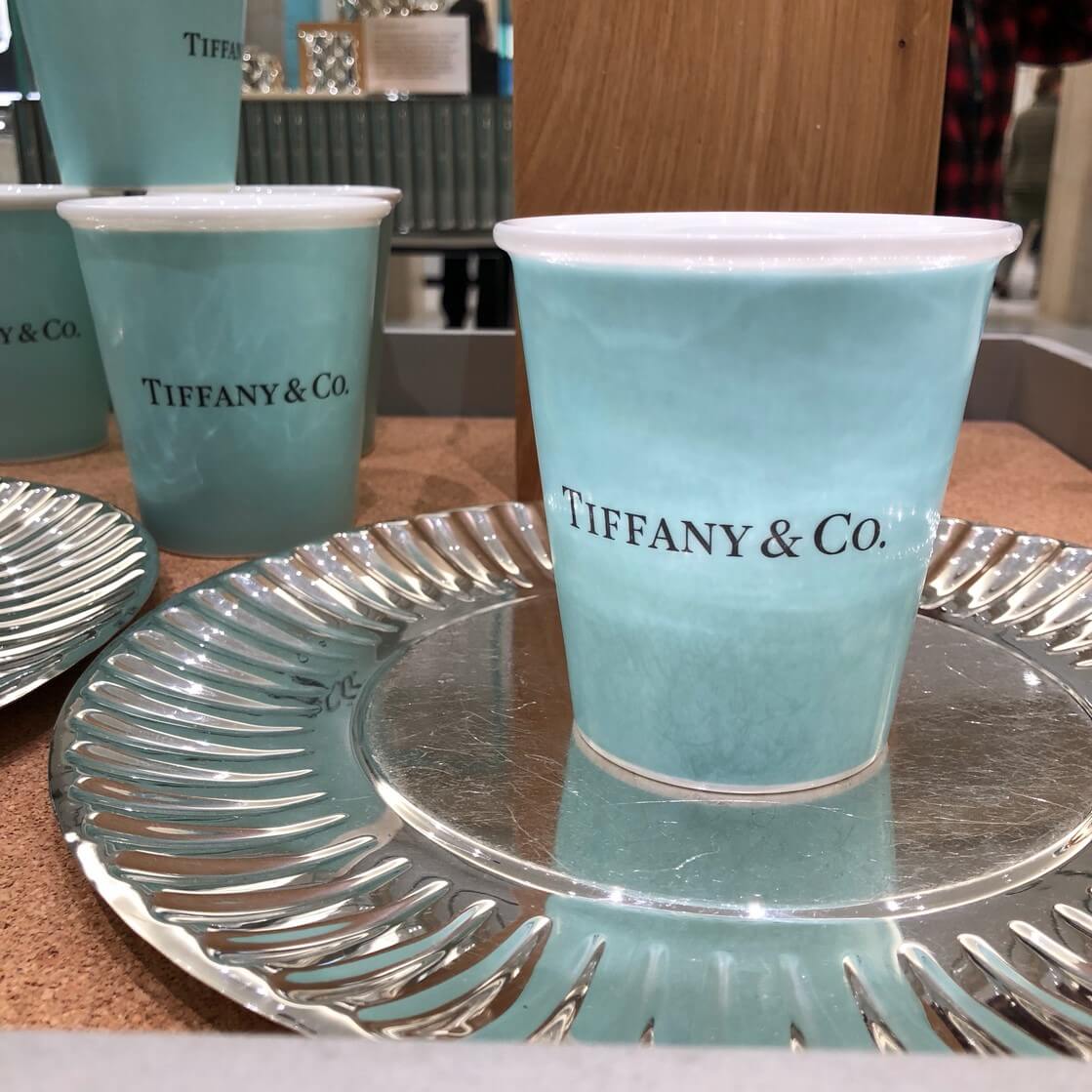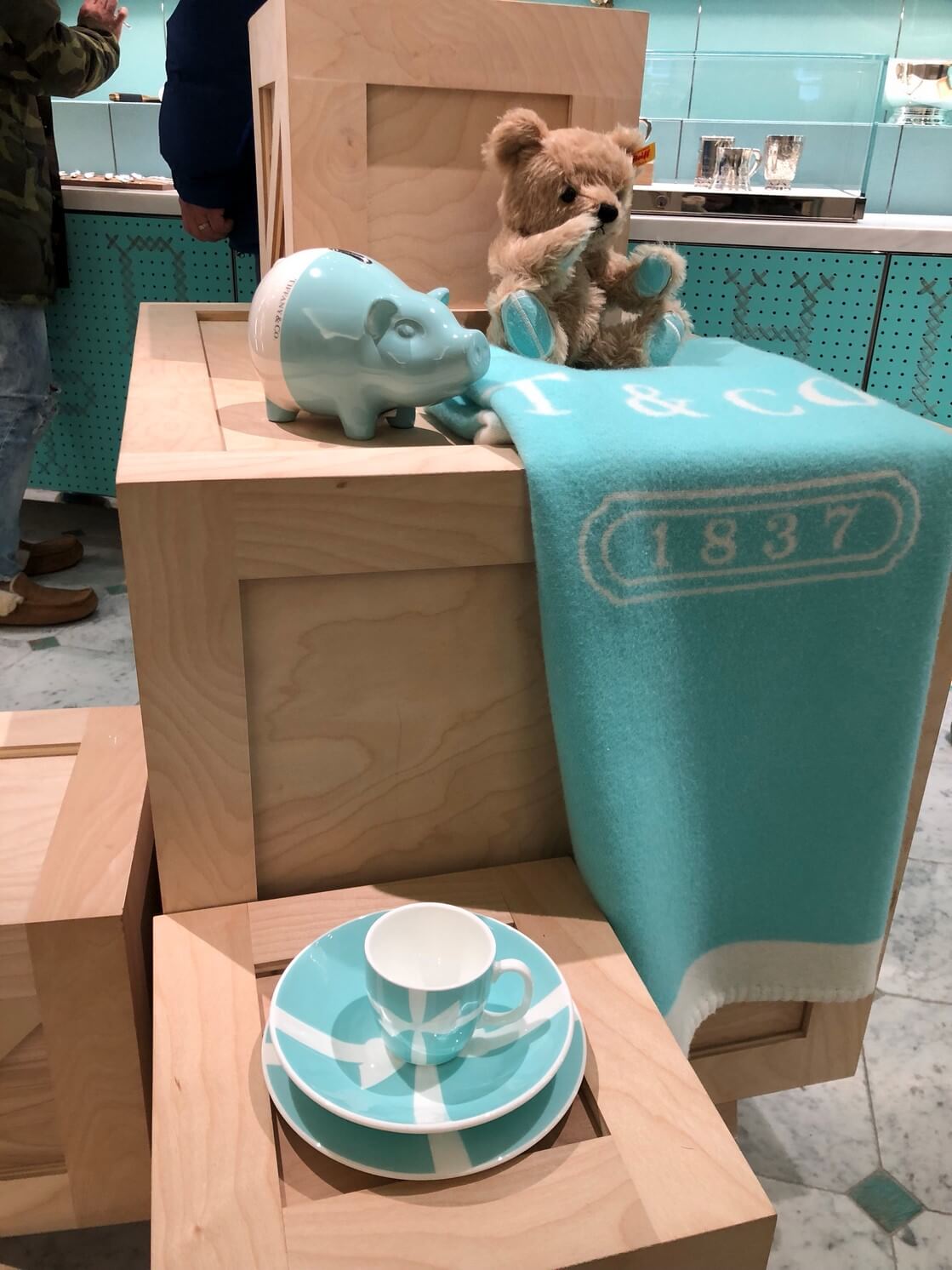 The small robin's egg blue dining room seats about 40 people and features a prix fixe American breakfast, lunch or tea.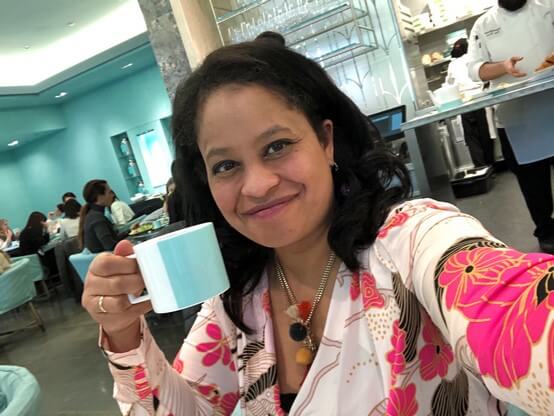 Reservations are hard to get.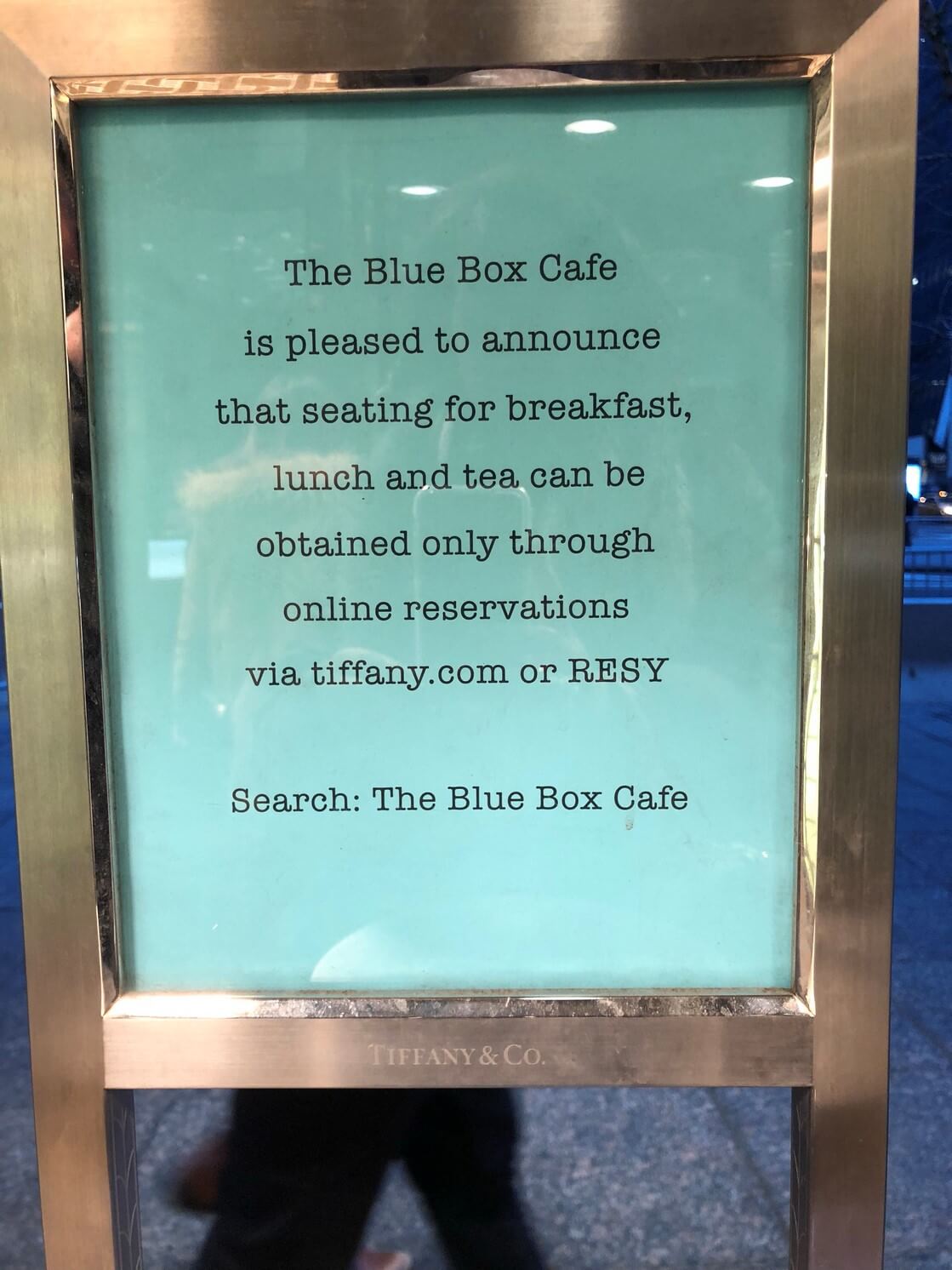 The dining room is small and the restaurant is still quite new. The novelty of the restaurant and its small footprint make securing a reservation difficult.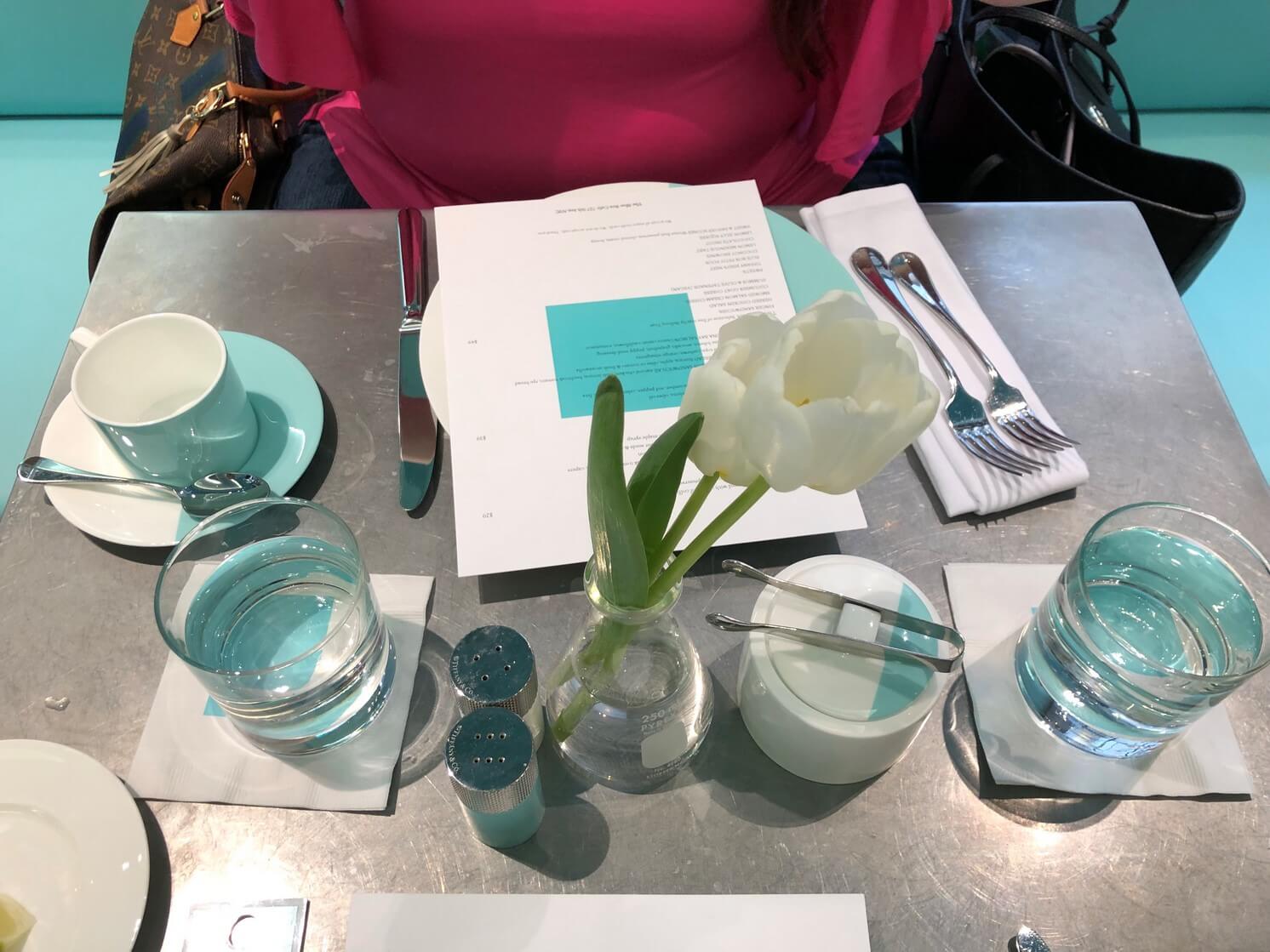 Reservations can be made up to 30 days in advance using an app called Resy.
Resy is the only way you can make a reservation, so be sure to download the app and enter all of your information so that at 9:00 a.m. exactly 30 days prior to your desired dining date, you can focus your energy on booking a table. If your first attempts to book a table are unsuccessful, sign up for an alert and you'll be immediately notified of a cancellation.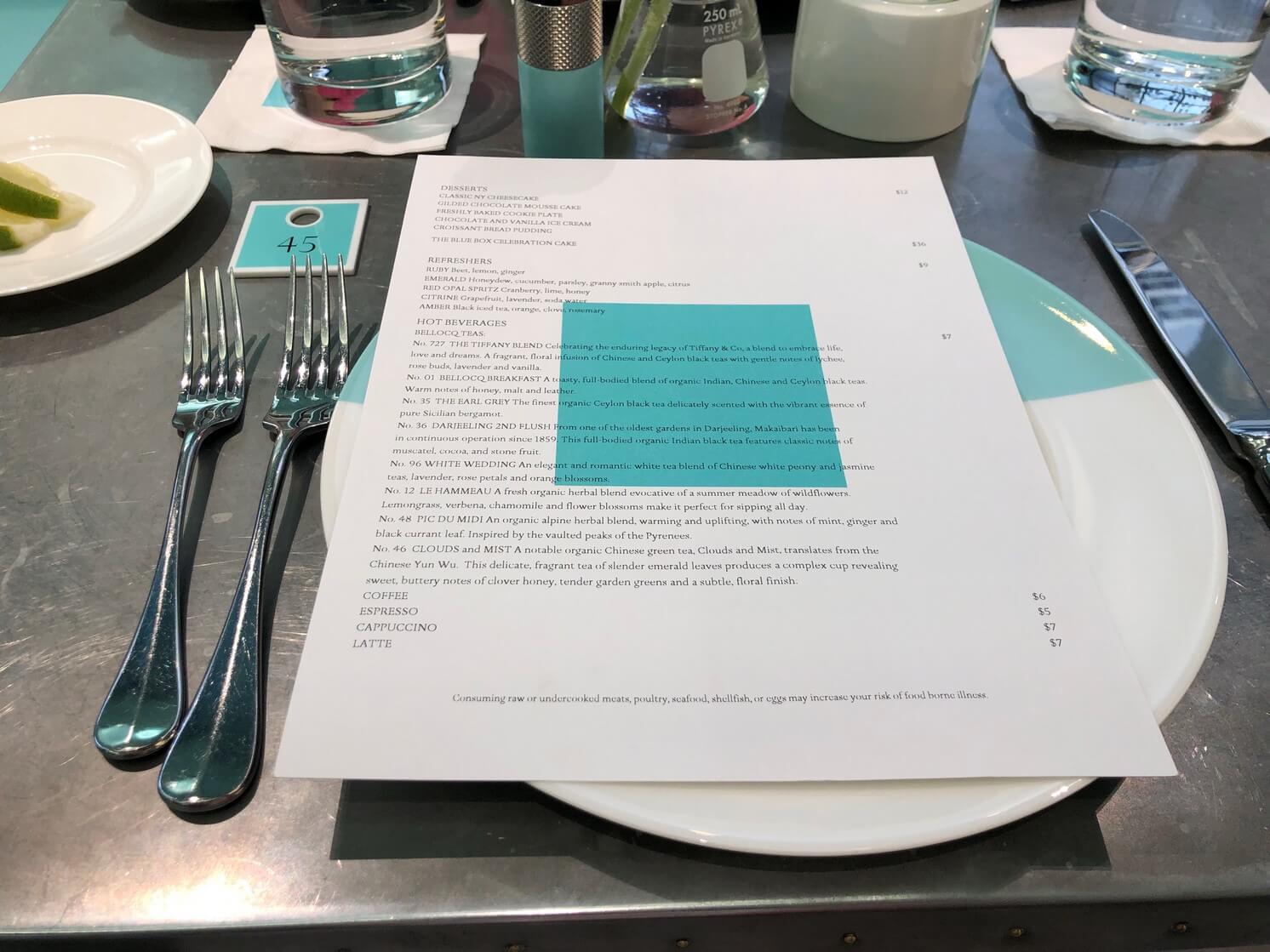 The cafe serves "American classics" made with regionally sourced ingredients and operates during store hours.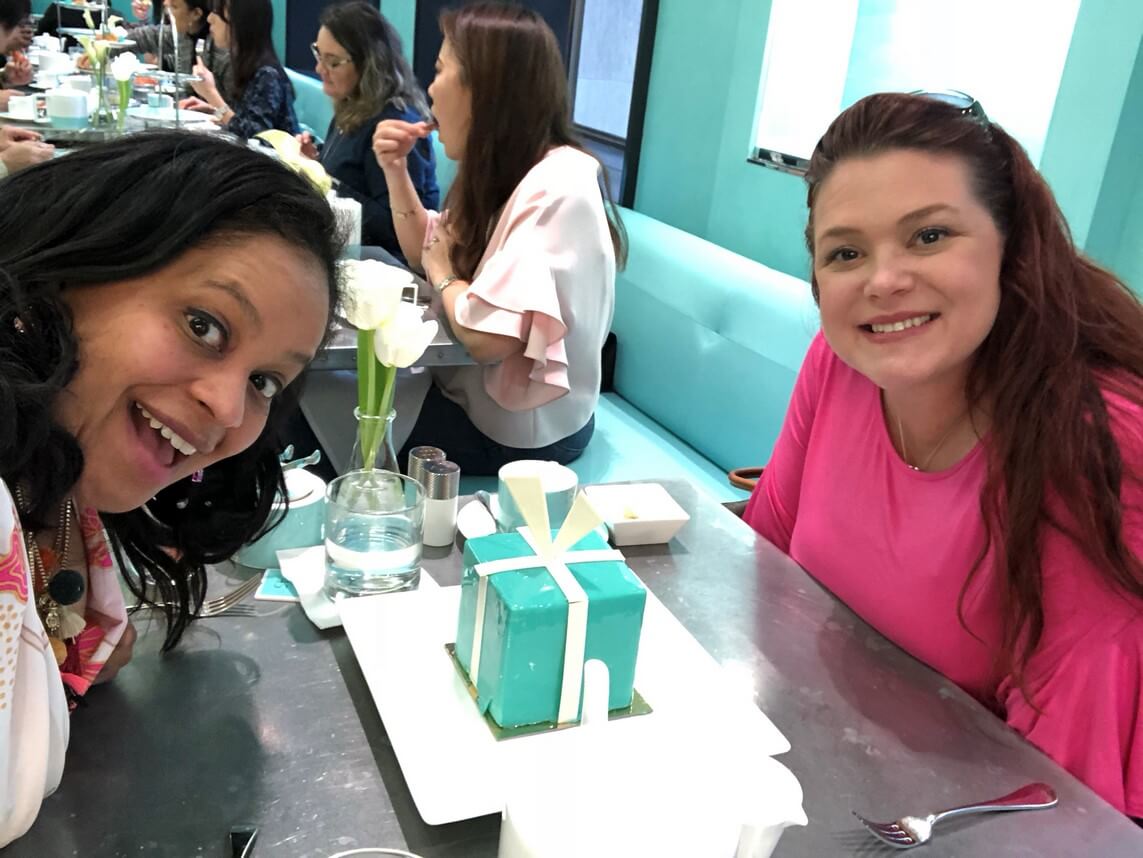 The cafe is cool, but its real purpose is to get shoppers into the store.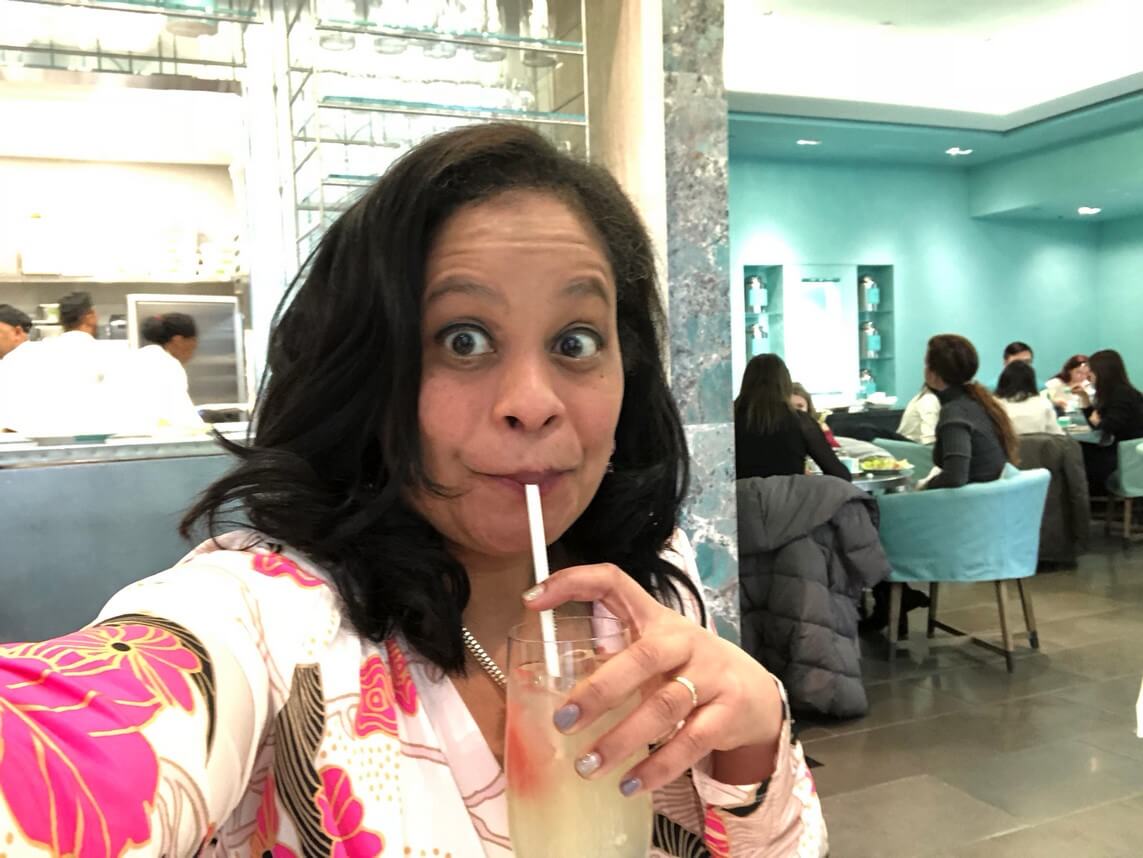 Beth and I worked so hard to get our reservation, that we committed to eating one of everything as soon as we were seated.
The things we do in the name of research!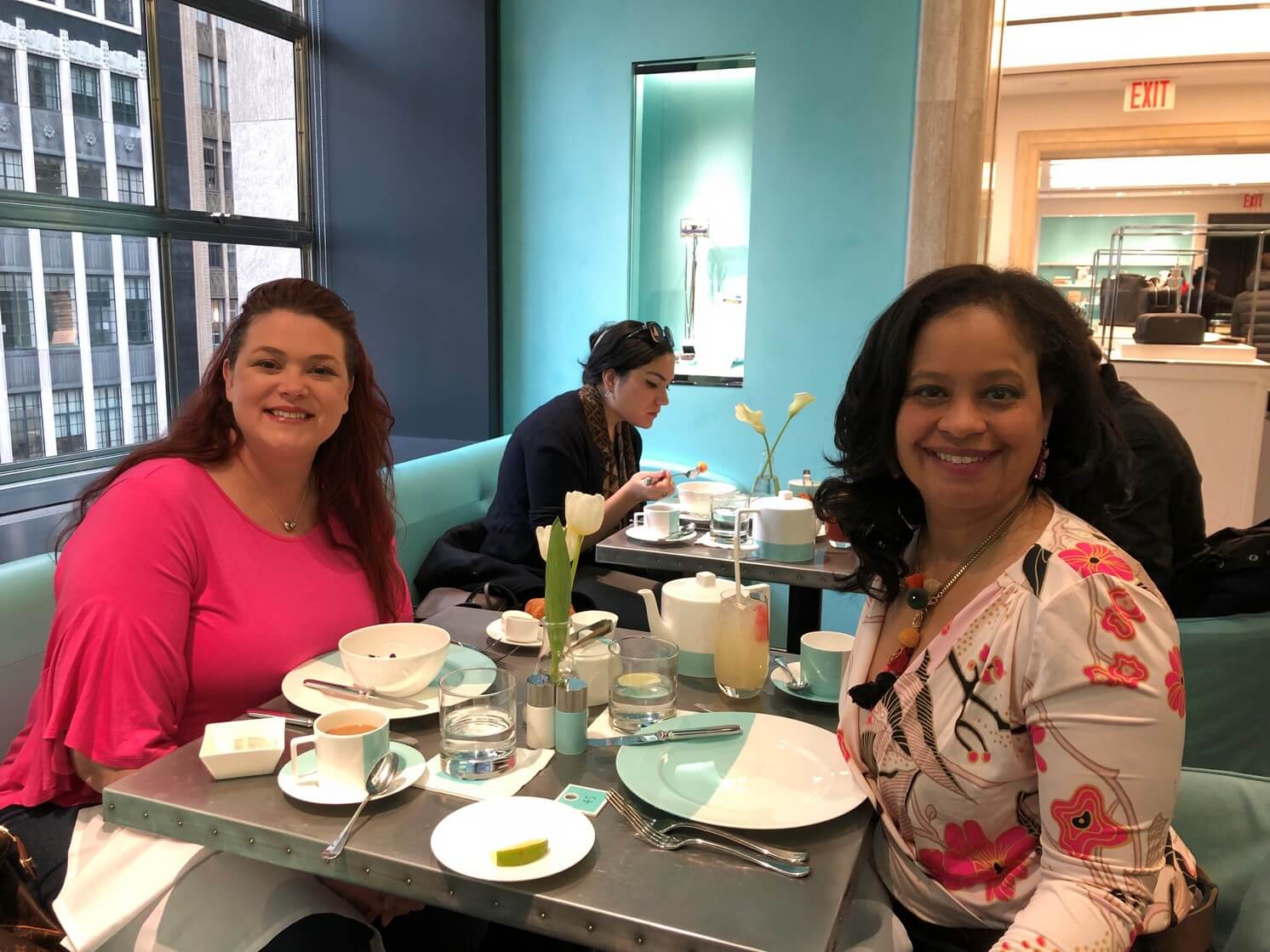 We were seated a tiny table, overlooking Central Park, and adjacent to the "Everyday Objects" collection—and interesting and outrageous collection of crazily priced everyday objects.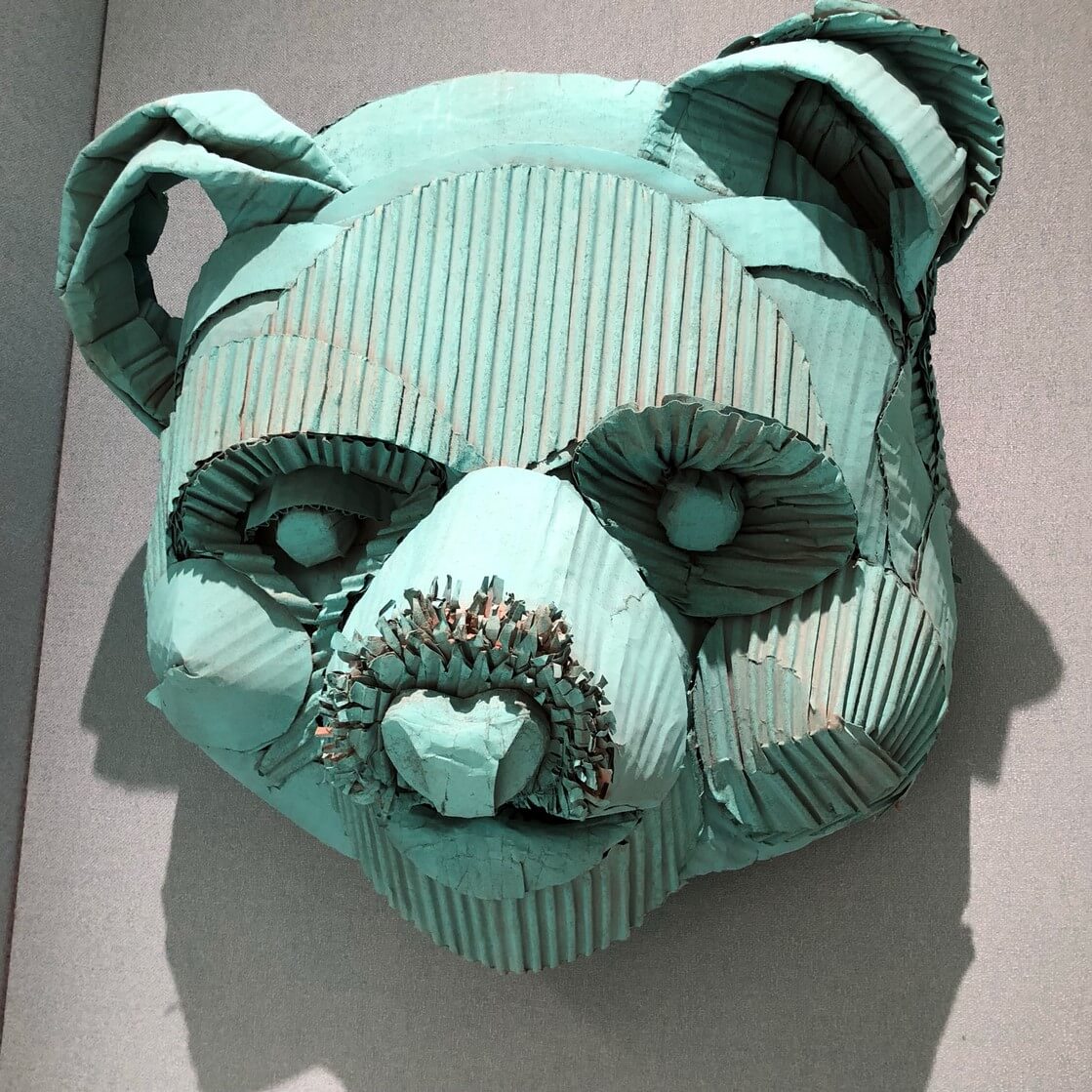 Inside the restaurant, the tea service, plates, and flatware are items you can purchase for your own home from Tiffany. I loved the mugs, especially.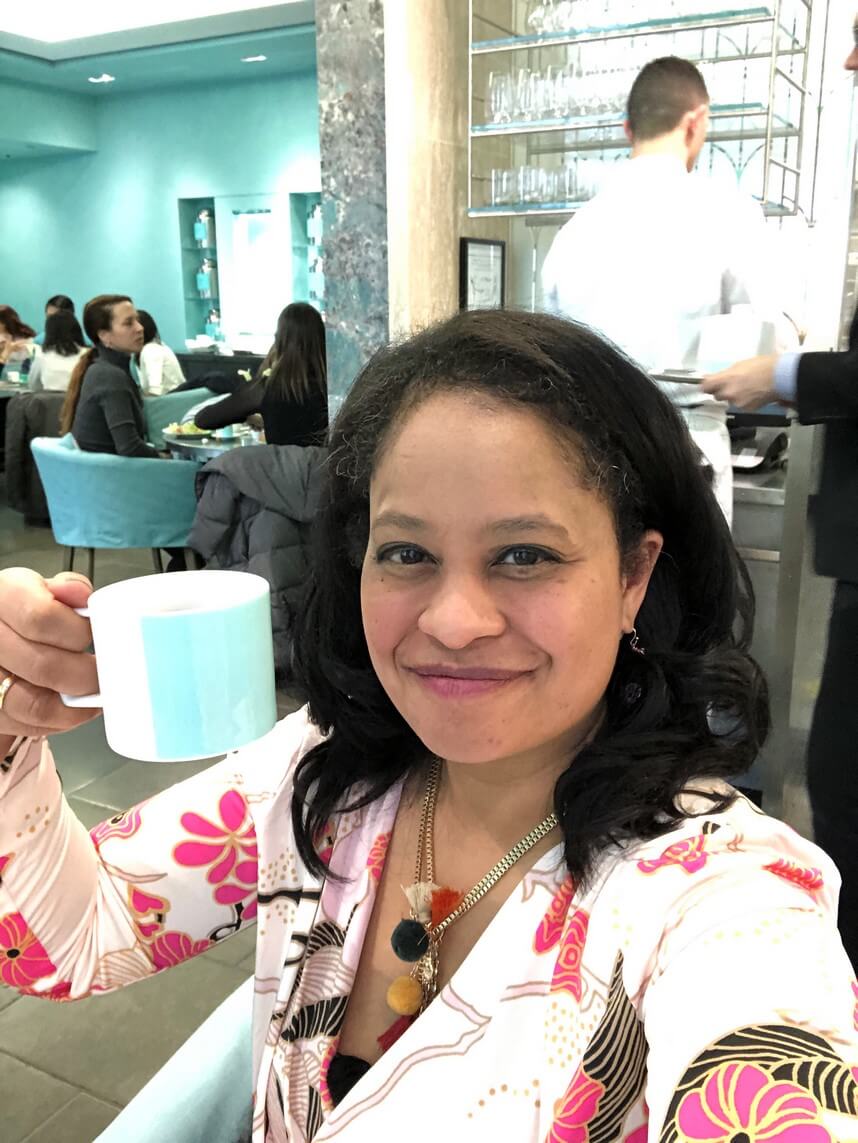 We ordered the "Tiffany Tea" a $49 tower of finger sandwiches and beautiful bakery treats. The Tiffany blend tea, No. 727 was quite good, came from a company called, Belloq.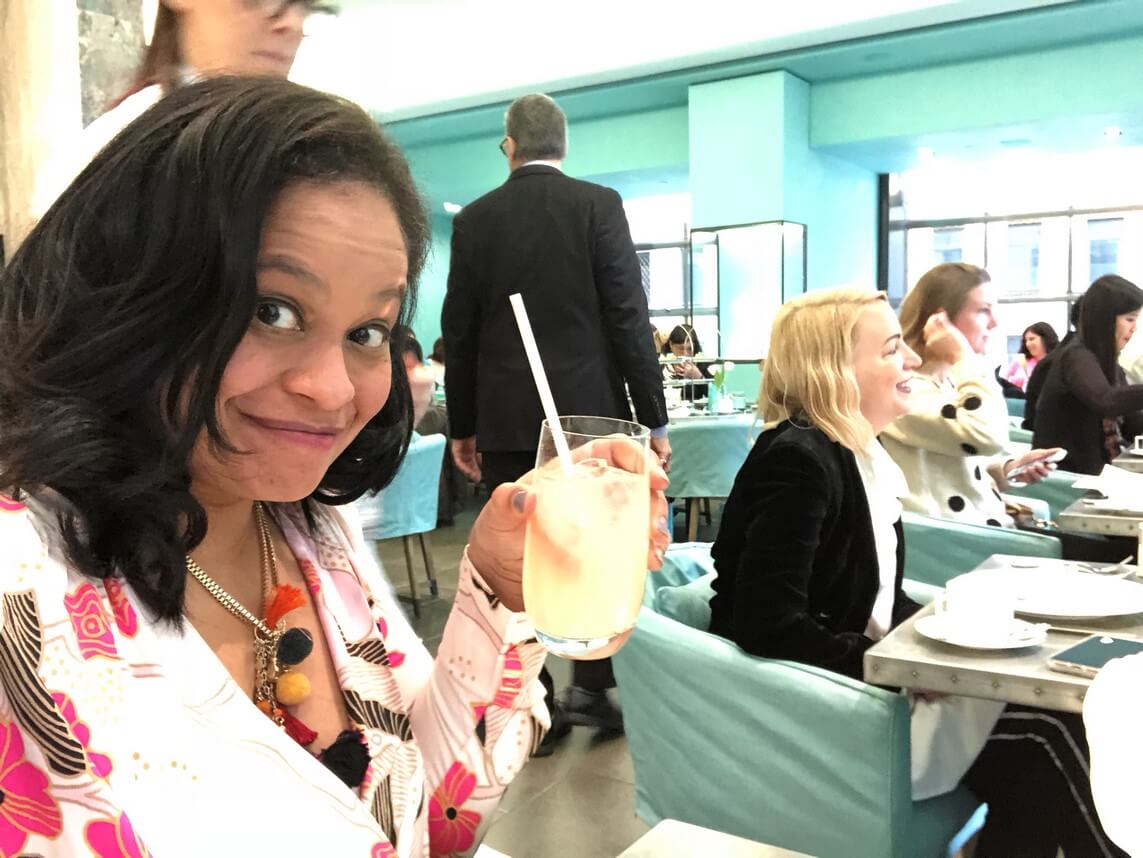 I also ordered one of the "Refreshers", the Citrine, a mix of grapefruit juice, lavender water and soda.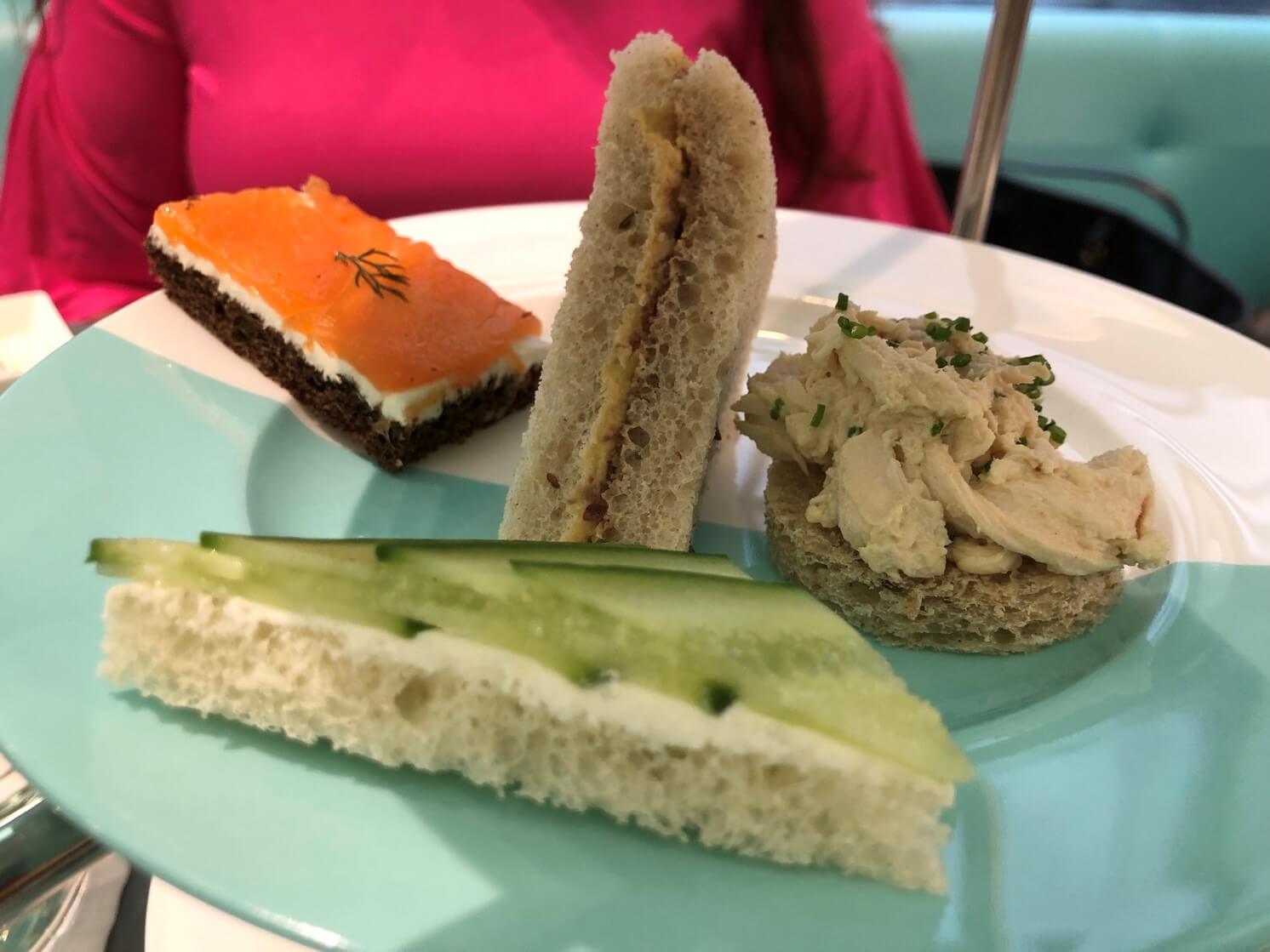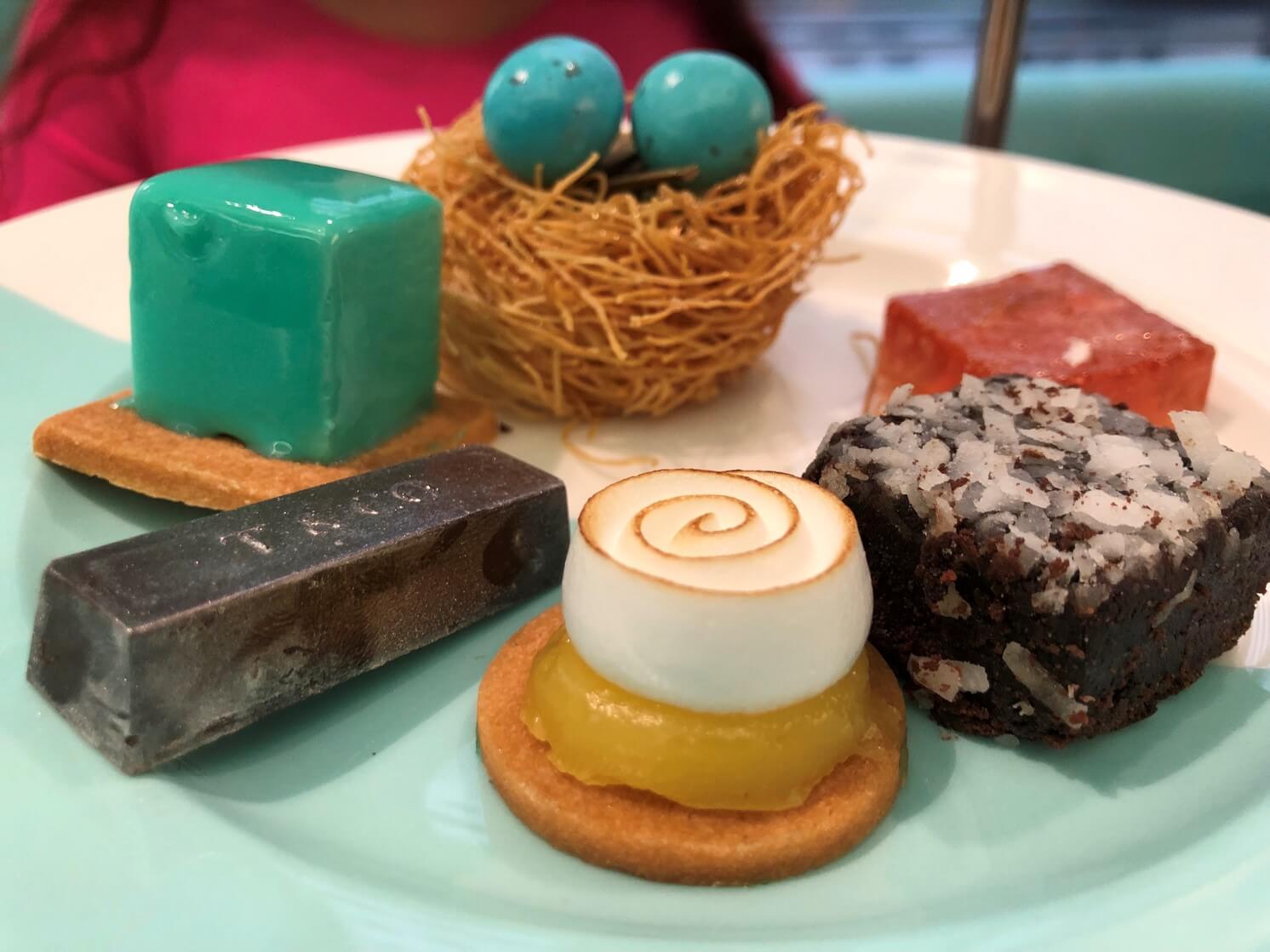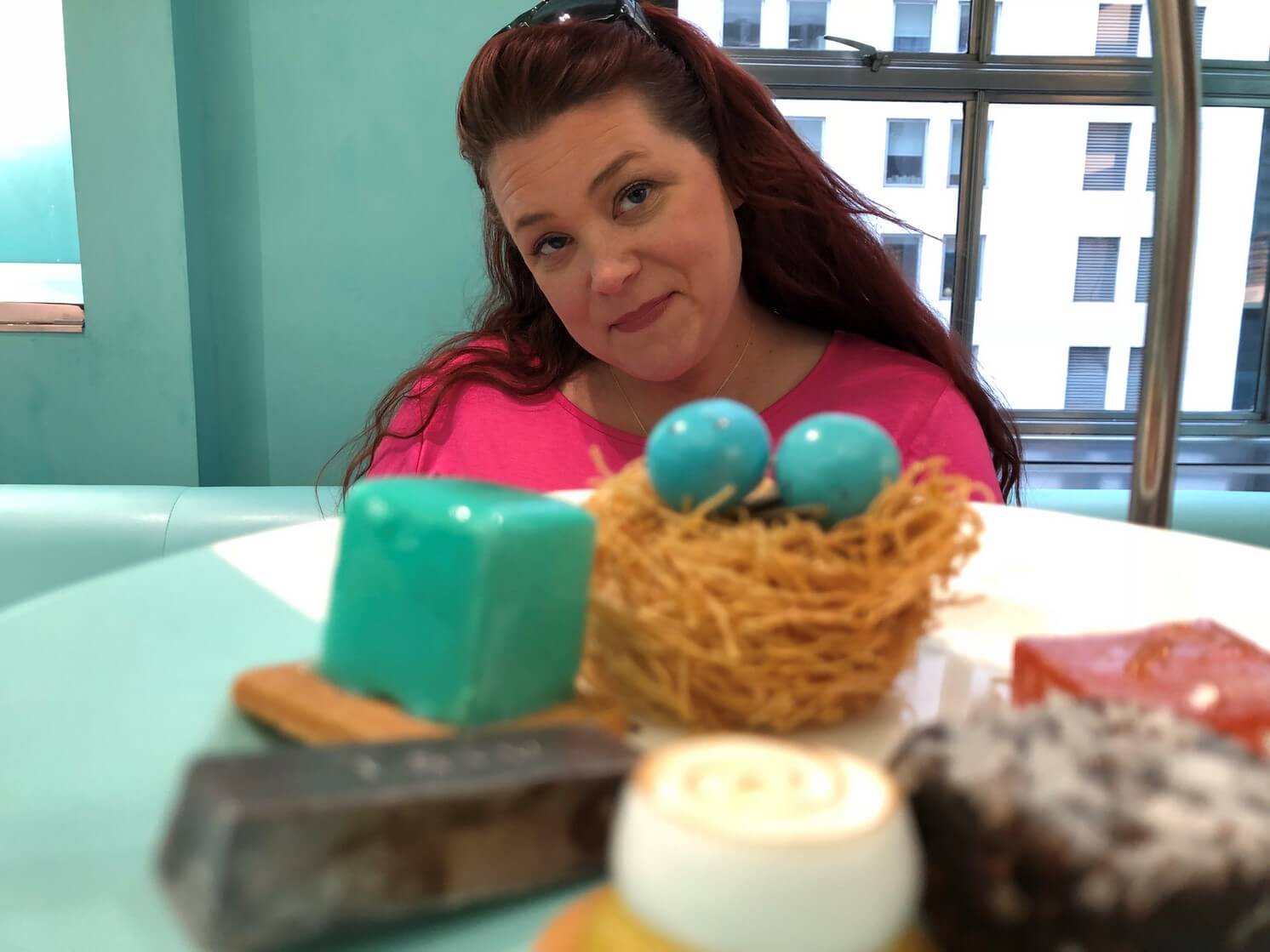 We also ordered Truffle Eggs. A mix of soft eggs, shaved truffles, kunik cheese, and smoked bacon.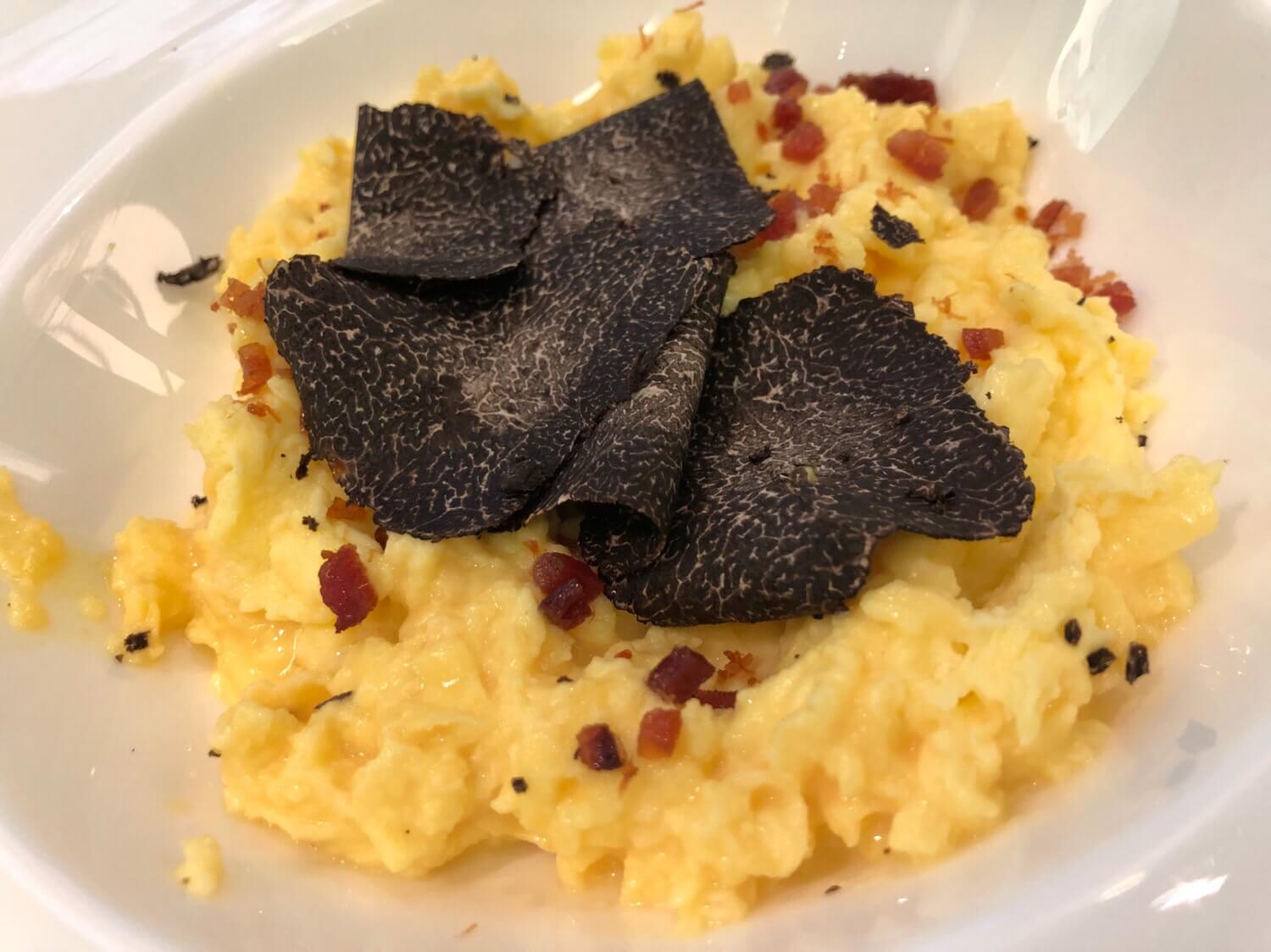 And finally, we had to order the very beautiful, iconic Blue Box Celebration Cake ($36). It was too pretty to cut, so we stared at it for a bit, and finally cut it. There was a lot of cake, and Beth ended up taking it back home with her.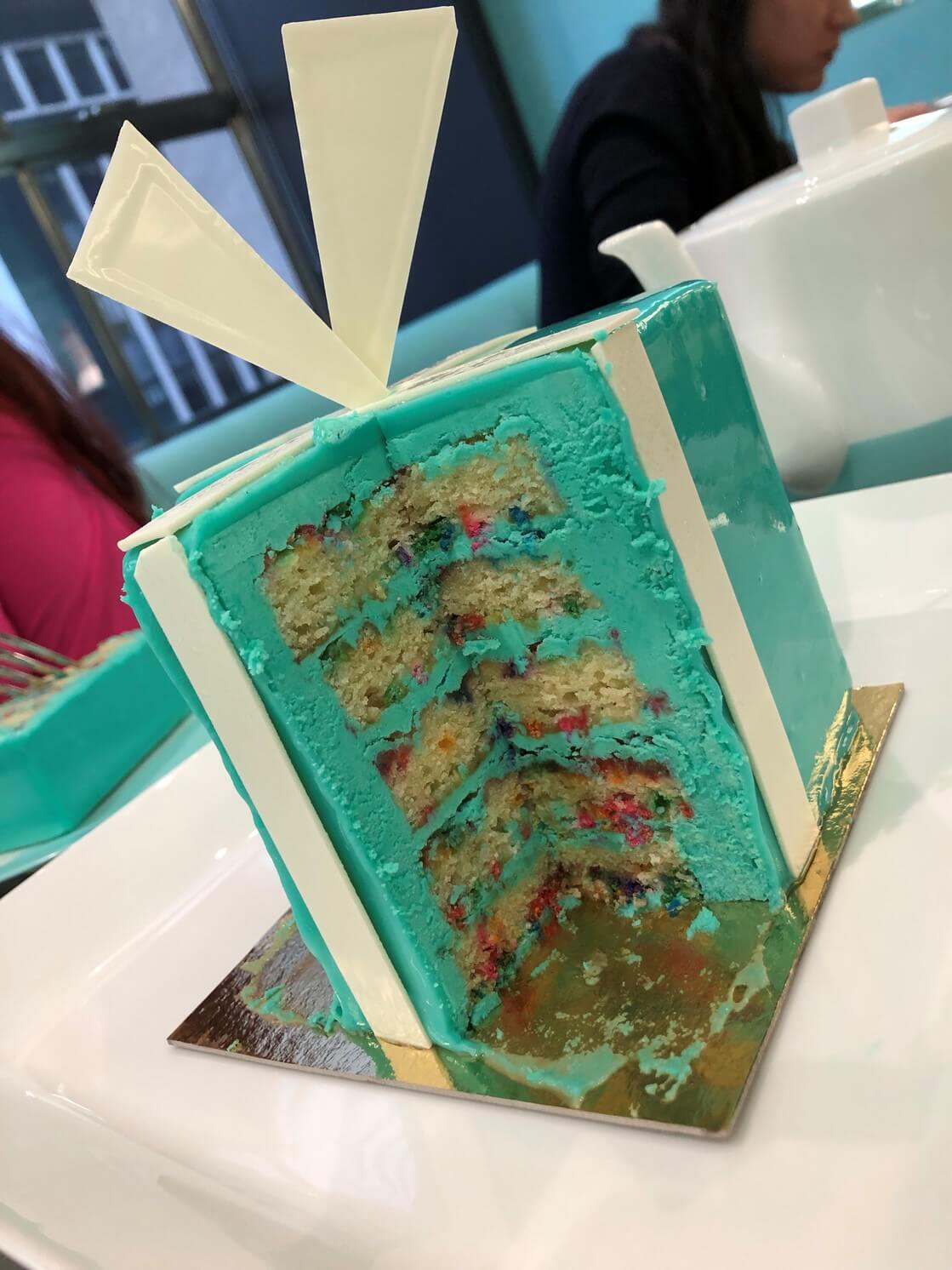 According to the press release, the menu will change with the season–and will constantly be a refined take on signature New York dishes, "reinvented to be uniquely New York."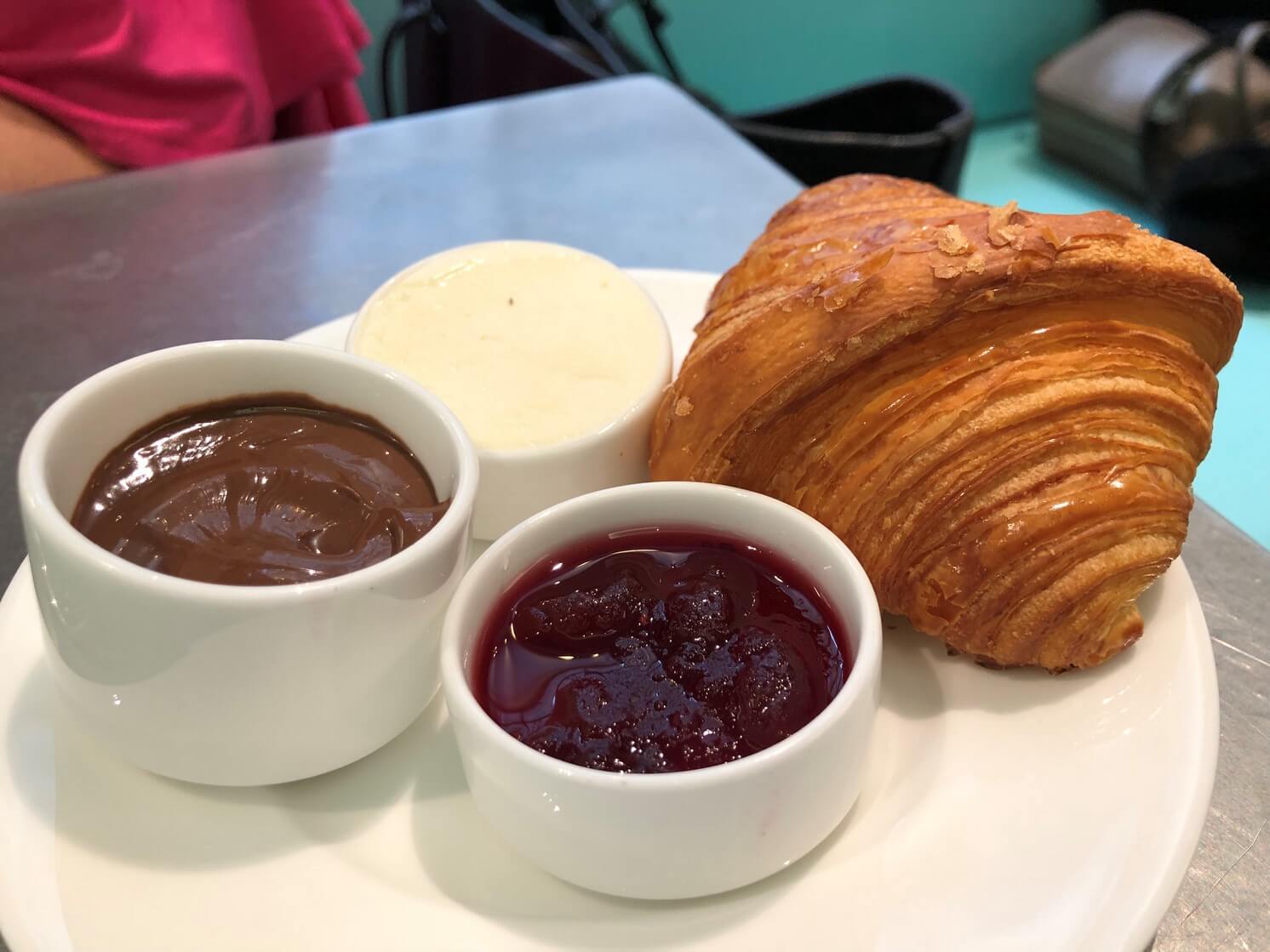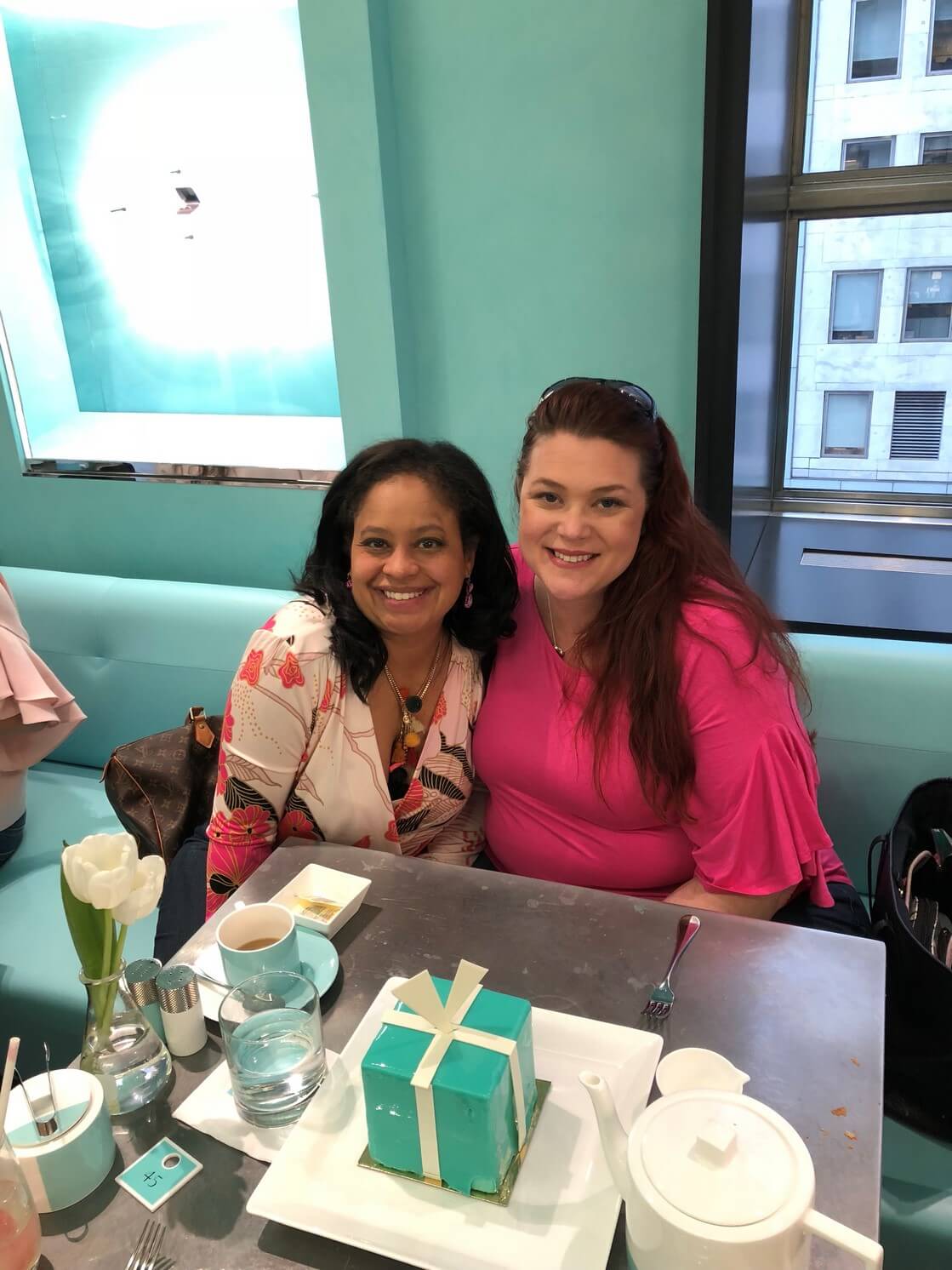 The service at the restaurant was great. Our server was funny, helpful and provided us with good recommendations.
The food was expensive, but we felt that we were paying for the dining experience and felt it was priced in the spirit of special occasion dining.
Everyone from the elevator operator to the hostess and server was friendly and welcoming. The staff was excited to show off the cafe and provide the top-shelf hospitality and service you expect from a brand like Tiffany.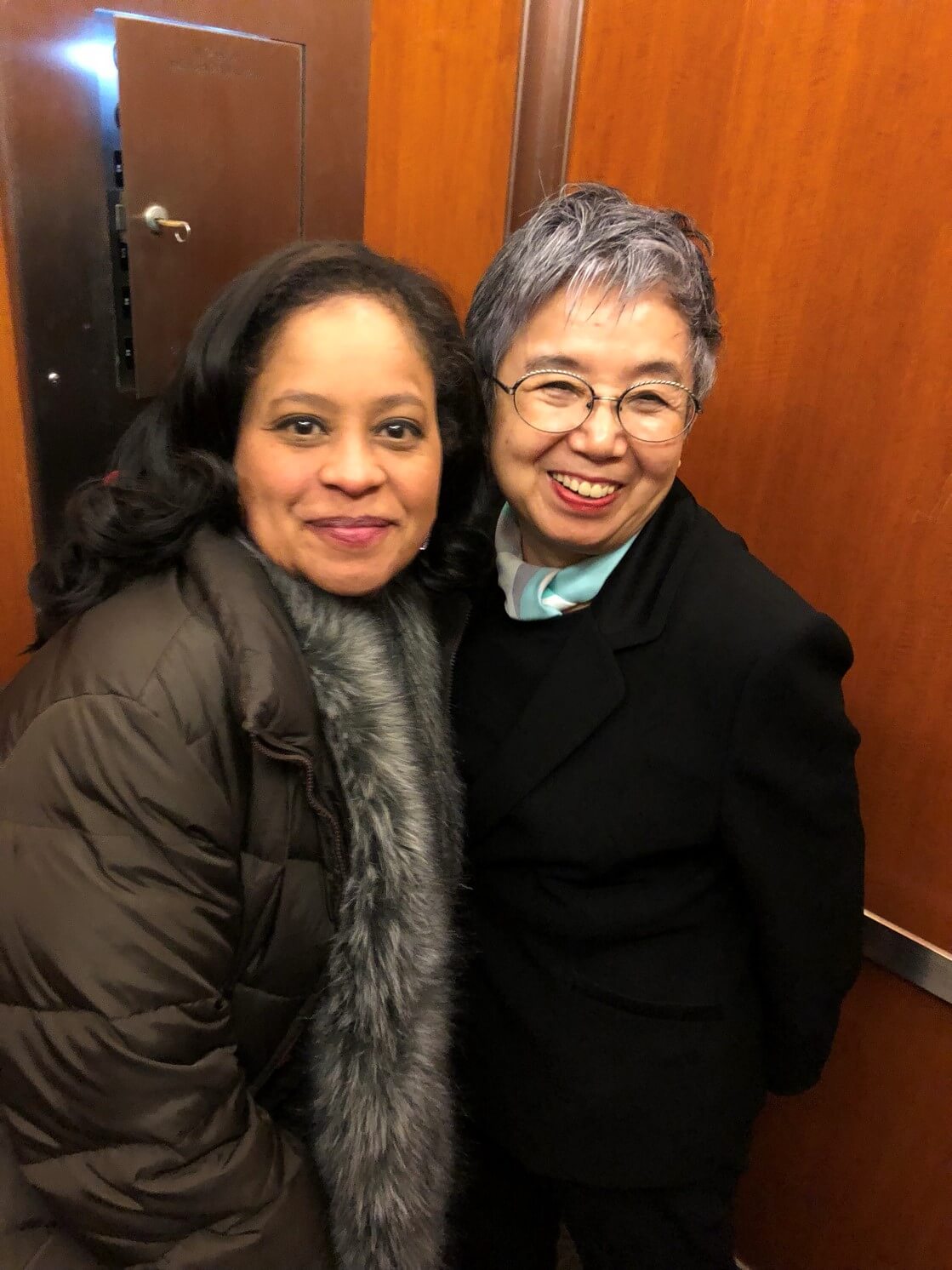 And the setting was lovely.
The only bummer was that the cafe is still so new that it didn't yet have its liquor license, so we weren't able to enjoy mimosas or champagne with brunch.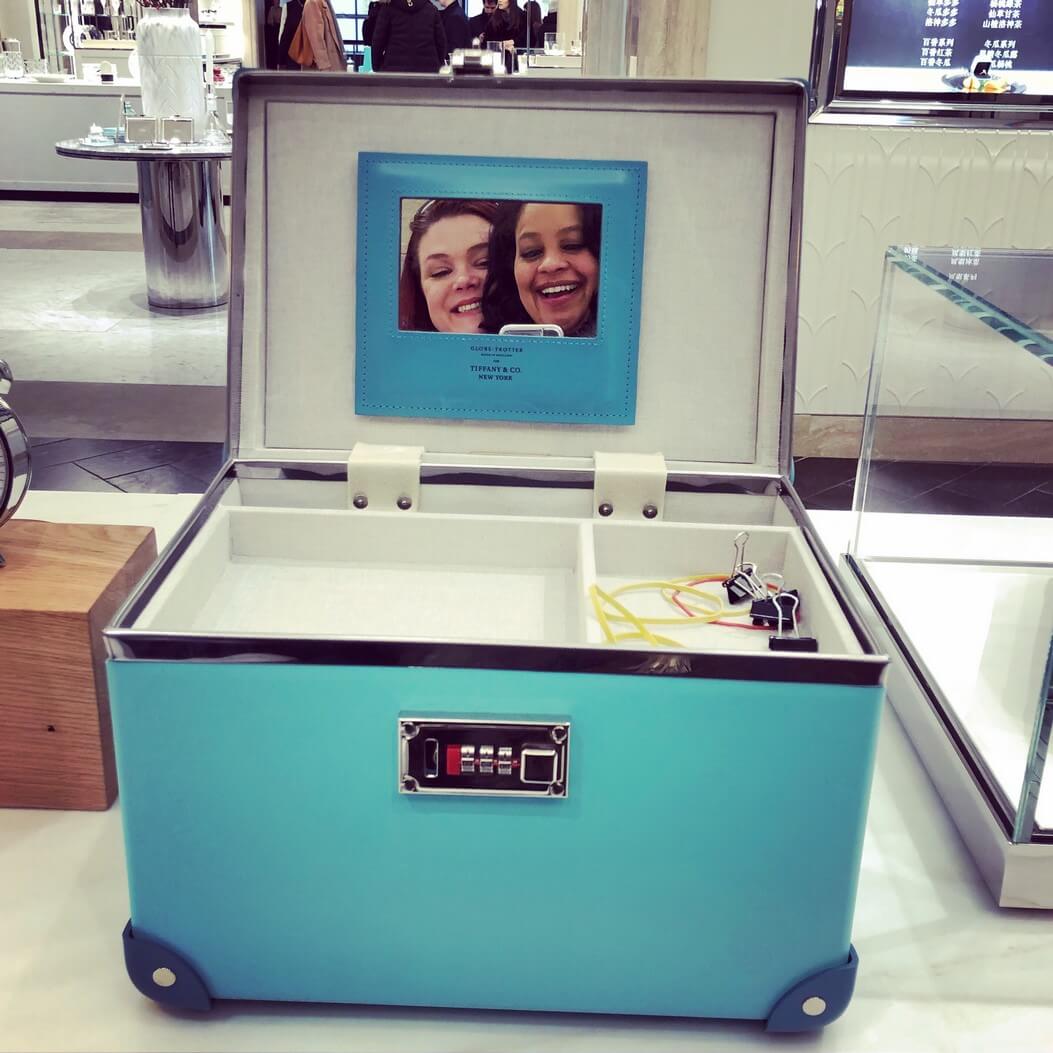 In short, the Blue Box Cafe is a fun place to dine with your girlfriends in celebration of a special occasion.
Yes, it's spendy.
Yes, it's a nightmare to secure reservations on Resy.
But it's fun brunch with your bestie in New York, and then shop the floor of the City's most iconic store.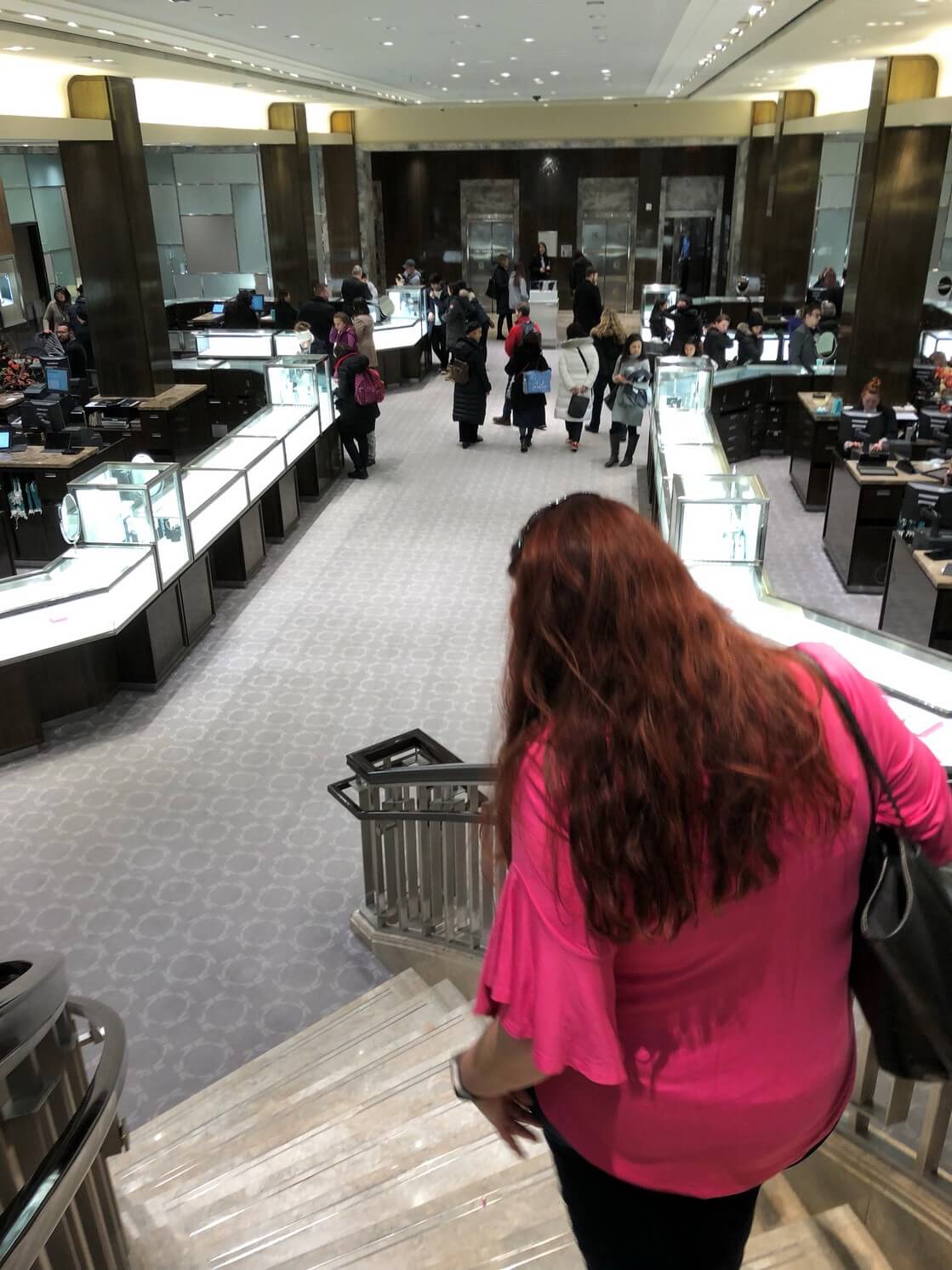 As always, if you go, let me know!